Settler of township lots: Lot 13, Conc. 4, Stanhope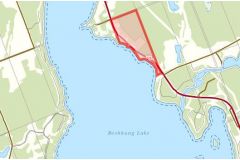 Location: Map point is the approximate location on the south west portion of this lot on the west shore of Boshkung Lake
Land Acquisition: 1934 from The Township of Stanhope to Olive Mabel McLaughlan; 1935 fom The Crown to Clarence McLaughlan South West part 1.56 acres. Ontario Land Parcel Register - Stanhope (Image 147).
Dates of residency: Summer resident
Interesting facts: Excerpted from Boshkung Lake Memoirs, The Boshkung Lake Millennium Book Committee, 2001. Submitted by George McLaughlin, who died in December 1999.
In the mid 1920's, George McLaughlin's father, his uncle, George Love,  and Grandfather originally came to the Haliburton area in the days when the Gull River Lumber Company of Lindsay was operating here. W. C. McLaughlin had bought property, just north of the old stone house on Hall's Lake. Later his uncle bought sixty acres on the south side of Hall's Lake.
Clarence found a lot, which he liked, not too far south of the present Foster's Store, one of the lots which the Provincial Government was offering for sale in an attempt to raise money for construction of the present Highway 35. George remembers going with his Dad to the Department of Lands and Forests at Queen's Part, where one and a half acres with 195 feet of shoreline were purchased for $75.00. George's father and Grandfather built the original cottage in 1933, still used to this day.
Electricity was not available until after the Second World War, although they sat in their cottage and listened to war being declared in 1939 on a battery-powered radio.
George's dad planted several hundred red and jack pine trees on the property, need after the intense years of lumbering in this area. In the farm fields across the lake, one could see cattle grazing. The Archers owned a farm over there and used to 'punt' across the lake every evening to milk the cows to supply milk for guests at Matabanick Inn or to sell. Leigh Sisson also kept cattle on his farm where the Homestead Cottages are now. George's mother would pasteurize the farm milk.
Preceding landowner: The Crown
Succeeding landowner:
Link to Settlers of Algonquin Highlands family tree - not listed
Photo: George McLaughlin with his mother [Olive] in front of McLaughlin Cottage - 1949. Source: Boshkung Lake Memoirs, The Boshkung Lake Millennium Book Committee, 2001. Photo courtesy of George McLaughlin