Settler of township lots: Lot 12, Conc. 7, Stanhope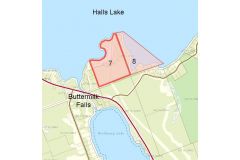 Location: Map point is the approximate location on this irregular, waterfront lot on the south shore if Halls Lake - McLaughlin Point Road.
Land acquisition: Land acquisition: 1931 to William McLaughlin from Allan Carter Hewitt. Ontario Land Parcel Register - Stanhope (Image 90)
Other land: Lot 13, Conc. 7, Stanhope - 1938 from His Majesty. Ontario Land Parcel Register - Stanhope (Image 98)
Dates of residency: Cottager from 1932
Interesting facts: From William McLaughlin's History
On the Fourth day of November, 1931, I entered into an agreement with one Allen C. Hewett to purchase all of lot 12, concession 7, containing approximately forty-seven acres on the south shore of Halls Lake. At the same time he granted a right-of-way over part of lot 11, concession 7, for the purposes of ingress and egress to and from the above described property for all purposes, and being 33' in width, commencing on said lots 11 & 12, and following approximately the base of the mountain insofar as practical for a road in a northerly direction to the western boundary of said lot No. 12.
One Joshua Davis received a patent from the Crown on February 13th, 1874 for the above-mentioned parcel. He subsequently left the district forty to fifty years prior to 1931. Allen Hewett of Minden, a relative, paid the taxes for a number of years and granted a deed to W. C. McLaughlin on November 24th, 1931, by reason of possession. The consideration was $400.00 or $8.51 per acre.
Plans for a seven-roomed cottage and two-piece bathroom were prepared, so in the fall of 1932 we decided to proceed. The carpenters, plumbers and painters were sent up from Toronto, and together with some local labor the cottage was completed in October 1932 ready for occupancy.
We soon found that we were comparatively free from mosquitoes and black flies due to the prevailing winds from the west and north, so we gave our cottage the Indian name of "ANO-A-TOK" meaning The House of the Winds.
Read McLaughlin's History of McLaughlin Point