Settler of township lots: Lots 2 & 3, Conc. 8; and (from 1935-1972) Lot 3, Conc. 10, McClintock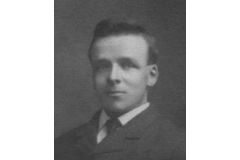 Location: Map point is the approximate location on Lot 2, Conc. 3 at the south end of Oxtongue Lake
Land Acquisition:
Lots 2 & 3, Conc. 8: No record of ownership. The is no image in the Ontario Land Parcel Register - McClintock for either lot.
Lot 3, Conc. 10: 1927 from the J. D. Sheer Lumber Company, 100 acres. Ontario Land Parcel Register - McClintock (Image 165). 1950 Mary Annie Asbury, widow; 1954 Robert John Bowlett
Dates of residency: 1891 - 
Interesting facts:
From: Facts and Fables of Oxtongue Lake, as submitted by A. Asbury, pgs 61-62. (see link below):
James, son of Charles and Margaret Asbury, was born in Hamilton on November 16, 1880.  In his boyhood he spent three years in England with his parents.  On their return the family settled in Millgrove, Ontario.  The next move was to Baysville in 1887, and in 1891 the family (Charles Asbury with his wife and family of seven children) had settled at Oxtongue Lake, on Lots 2 & 3, Concession 8, McClintock Twp in 1891.  These lots are located beyond the south end of Oxtongue Lake.  I guess James never lived there, as John Carlton was assessed taxes for the property in 1901.  Charles and some of the family went to Pelee Island to live.  Charlies' son James and his brother Tom stayed at Dwight.
We have privilege to diaries, written by James Asbury for his daily schedules for 1901, 1902, 1903, and 1904.  These little books were a wonderful source of information.  In all of his diaries, he tells of making a journey of 2 hours to Oxtongue Lake almost daily, and as he doesn't mention a horse, we think he probably walked every day.
In 1901, James writes about building a canoe in August, of helping cut grain in September with William Eakin (abutting property, Lot 1, Con 8) and helping John Robertson build a barn the week of October 15th, then guiding for two weeks for some American "Sports". He also helped cut wood for Mr. Eakin and sold 8 tons of hay to James Robertson  for $8.00, plus 12 bags of potatoes to John Carlton.  He writes about him and his brother, Tom, spending the night at Wm. Carlton's (which is now referred to as "the Last House") on his way to Algonquin Park to work for the winter at McNiece logging camp.  They stopped and had lunch at Rathbun's Camp, near the Park House located between High Falls and Whiskey Rapids.
James had built a cabin, which sometimes he referred to as his shack, near the south end of Oxtongue Lake, likely on the property later purchased by William and Elizabeth Chapin in 1904.
James mentions taking logs out of the dam on the river and fishing near the dam.  He also did some trapping, some logging, and grew potatoes to sell to the lumber camps and to the tourists.  He refers to working for Mr. Chapin and Dr. Lewis.  He built canoes and sold a 'cedar strip' to Dr. Lewis for $17.00.  In his diary for March 1903, James writes, "Winter broke up on March 1st, crows here March 10th and robins seen on March 15th, ice thin in Muskoka".
In 1912, James married Mary-Annie Newton, and they are recorded as living at Lot 10, Conc. 10, Franklin Twp., in Dwight.
Mr. Asbury was the first Reeve in 1929 when the Township of Franklin was organized.  He was fond of fishing, hunting, and took an active interest in all sports.  Hockey was his favourite.  Other hobbies were photography, woodcraft and music. 
In 1935, James and Annie purchased part of Lot 3, Conc. 10, McClintock on the Oxtongue River from Shier Lumber Co.  This location had been cleared and used as a camp for road construction from 1933 to 1935, Camp #7.  They built a store, restaurant and several small cabins to rent, which they called "Cabinville" (currently, the "Keys to Algonquin").  It was the First Aid post for 30 years.
Mr. Asbury was born in 1880 in Ontario and passed away December 25, 1949. He is buried in Stewart Memorial Cemetery, Dwight. 
Unfortunately, the main building of Cabinville, which included the family residence, was burned in 1963.  Mrs. Annie Asbury and son, Arthur, lived there and rebuilt their residence, back further from the road.  
In 1972, Art and his mother sold Cabinville and moved to Toronto. Mrs. Asbury died on June 24, 1978.
Read A. Asbury's ASBURY FAMILY story. Source: Facts and Fables of Oxtongue Lake, 2000 pgs 61-62.
Ownership/Resident History:
1891-1901 Charles & Margaret Asbury
1901 John Carlton was assessed taxes for this property
1911 The John Flaherty family were enumerated at this location at the time of the Census of Canada, 1911.
1935-1972 James & Mary-Anne Asbury
Preceding landowner: James' father, Charles Asbury
Succeeding landowner: Lot 3, Conc. 10 Mary Annie Asbury, widow; 1954 Robert John Bowlett
Link to Settlers of Algonquin Highlands family tree Jams William Asbury 1880-1948
Photo: Cabinville Algonquin Park Road, Ont, Canada