Settler of township lots: Lot 9, Conc. 13, McClintock Twp
Location: Map point is the aproximate location on this lot on the Oxtongue River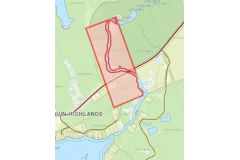 Land acquisition: No record of ownership.
1945 Patent from The Crown to

Otto H Peters

, 5 broken acres. Ontario Land Parcel Register - McClintock (Click here and go to Image 201).
Dates of residency: 
Interesting facts:
William Carlton owned occupied "The Last House" on the Oxtongue River, where many people travelling into Algonquin Park via canoe would stop to load up with provisions or stay the night before entering the park proper.  Members of the Group of Seven have made reference to stopping here on their way into the park to paint.
From Hunt Camps - The Last House. Source: Facts and Fables of Oxtongue Lake, 2000 pg. 30: According to the registry Office in Minden, this property was purchased from the Crown by Otto Peters in 1928.  (I guess it was built in the 1880's and never registered till O. Peters owned it.) It was purchased by George Fricke from O. Peters in 1942 and used as a private summer residence. in 1964, a group of Huntsville business men, including Bill Blackburn, Jack and Bert Antcliffe, John West, and Bill McDonald bought it and named it "The Last House Hunt Camp". It now [2000] used year-round by camp members.
There are pictures taken in the late 1800's of this log 2 story house. James Asbury (diary 1902) mentions that he and his brother Tom, stayed overnight at the Carlton's before heading up the Oxtongue River to work at logging camps during the winter.
Son of John Carlton, also a resident of Oxtongue Lake.
Preceding landowner:
Succeeding landowner:
Link to Settlers of Algonquin Highlands family tree William Carlton ~1865 -
Photo: Victor Asbury, Abe McCann, William Carlton, Ray Carlton, Otto Peters. Source Hunt Camps - The Last House. Source: Facts and Fables of Oxtongue Lake, 2000 pg. 30