Location: Minden to Dorset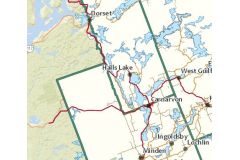 Date range: 1930s
Interesting facts:
The reconstruction of Hwy 35 was undertaken by the Department of Northern Development to provide jobs in the post-depression 1930s.
The Bobcaygeon Colonization Road linked the settlements of Hindon Hill, Pine Springs and Dorset. The roadway that became Hwy 35 ran through Carnarvon, through Halls Lake to Pine Springs where it met the Bobcaygeon Road.
One construction worker was called a 'dry ass' because he sat on a bag stuffed with hay or straw. He turned the piece of steel with diamonds imbedded in it as it was smashed by another guy with a sledge to make the holes for the dynamite. Carol has a painting 1927 showing this; scrapers drawn by horses - like a shovel with two push handles to pull the rock. Source: Interview with Tom Prentice, 8 January 2020.
Men from all over came and stayed in tap paper shacks. Their pay was $5.00 a month and board. Source: The Ackerblades, by Ruth Kellett (daughter of Swan).
Hwy 35 Construction Camps (Source: Interview with Tom Prentice, 8 January 2020):
Thirteen work camps were built in 1931 between Coboconk and Dorset, with the head office for the county located in Minden. 
13 Dorset
12 Black River - Wren Lake/Asbury Road 45.184962 -78.857148
11 Kent property opposite Pine Springs 45.133030 - 78.839961
10 Saskatchewan Lake - The cabins at Ox Narrows Lodge were the bunkhouses for the work crew at this camp near Saskatchewan Lake
9 Sisson where Bell building is now across from Homestead Cottages 45.082272 -78.730112
8 Carnarvon - have photo from Earl Hewitt
7 Twelve Mile Bridge - Hart Lodge cabins that have just been renovated; some were taken to shore of Horsehoe Lake for cottages
6 Mountain Lake
5 Minden
4 Archers at old Lutterworth Twp Bldg - Tony always called it Archer's Flat
3 Lackies - Kilcoo, Gull Lake
2 Miners Bay - Sparks; Grandpa Redner worked there
1 Moores Falls School
Read The Building of Highway 35 from Minden & Area Magazine, 1986
See also Bobcaygeon Colonization Road and read Building the Bobcaygeon Road from Minden & Area Magazine, 1988
Photo 1: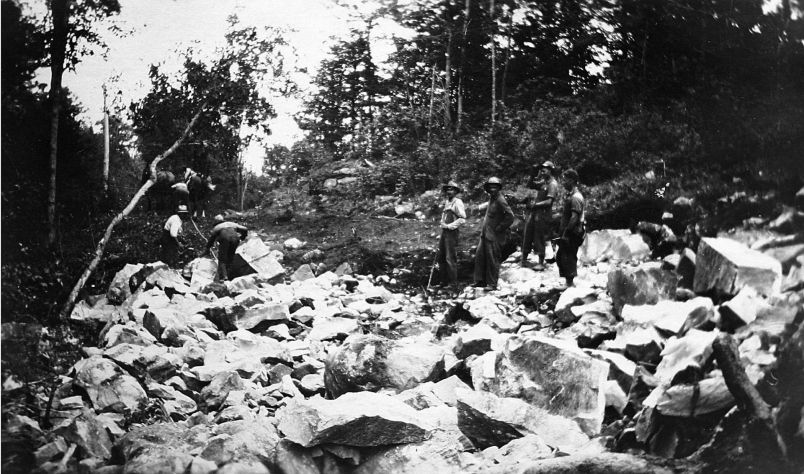 Photo 2: Hwy 35 - Pre 1930s  Before Highway 35 was rebuilt in the mid-1930's as a Depression work project, this is what travellers like Ted Pinch had to look forward to. The road was only one lane wide with no room for passing. Turn-offs were provided every so far so that one car cold pull over to make room for the other. The trip from Lake Ontario was a two-day expedition involving up to a dozen flat tires along the way.