Settler of township lots: Part Lot 16, Conc. 13, Minden (Stanhope area)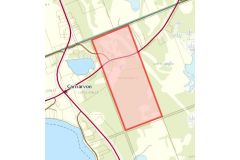 Location: Map point is the approximate location within 21 acres of this 97 acre lot at the west corner of East Road and Hwy 118 in  Carnarvon. The former Rogers Store.
Land acquisition:1901 21 acres from George Pearson Hart. Ontario Land Parcel Register - Minden (Image 370).
Dates of residency: 
1863 Marriage: Alfred Moore (1841–1874) Stanhope
1866 Birth of Daughter Clarenda 'Clara' Melinda Moore (1866–1883) Stanhope Twp
1877 Marriage: Charles Damion (1841–1927)
1901 Census of Canada, Minden: Mrs. P. A. Damion with 2 female boarders. Ran a boarding house in MInden.
1903 Business Directory, Minden: Mrs P A Damion, Carnarvon, Lot 16, Conc. 13
1928 Death: Died at Hospital for Incurables in Toronto. Informant was her son, Alfred W who also lived in Toronto. Buried at Scarboro Lawn Cemetery per death record. Cause of death: Cardiac Thrombosis, fracture femur, bed sores. Age: 92 y 11 m
Interesting facts: aka Phoebe Ann Clark
Carnarvon Post Office - 1867 to 1877: Post offices at this time were located in the homes of the Postmasters.
It has been written that Phoebe Ann Moore (later Phoebe Ann Damion), Alfred's wife, was the first Postmaster at Carnarvon. Although this is not true, she probably did most of the work, since in local folklore she is remembered in the role, not Alfred. It is also interesting to note that the post office records indicate that Alfred ceased to be Postmaster on his death in 1877 when he in fact died in 1874.  Did Carnarvon have a posthumous Postmaster?  If this is true, then it is no wonder that locally it was clear that Phoebe was the Postmaster in actions, if not in name.
Preceding landowner: 1901 George Pearson Hart from The Crown
Succeeding landowner:
1911 Thomas Henry Rogers, part
1913 Irvin Alexander Moore
1912 Wesley Harrison
1914 James Harrison
1929 Clayton Robers
1931 Sinclair Russell
Link to Settlers of Algonquin Highlands family tree
Phoebe Ann Clark, b. 21 Oct 1836, Ernestown, Ontario, d. 02 Oct 1928, Toronto, (Age 91 years)
Parents:
• Benjamin Clark, b. 06 Oct 1810, Ernestown, Ontario, d. 29 May 1900, Stanhope, (Age 89 years)
• Clarinda Henderson, b. 18 Feb 1811, Elizabethtown, Ontario, d. 26 Jan 1866, Stanhope, (Age 54 years)
Husband 1: Alfred Moore, b. 20 Nov 1840, Reach, Ontario, d. 13 Apr 1874, Stanhope, (Age 33 years)
Children with Alfred Moore:
1. Clarinda Melinda Moore, b. 1866, Stanhope, d. 26 Mar 1883, Stanhope, Age 17 years) 
2. Margaret Ann Moore, b. 14 Dec 1869, Stanhope, d. 19 Sep 1898, Ontario, (Age 28 years) 
3. Alfred Walter Moore, b. 30 Dec 1871, Stanhope, d. 19 Oct 1958, Victoria, Ontario, Age 86 years)
Husband 2: Charles Damion, b. 10 Nov 1841, England  d. 30 May 1927, Stanhope, (Age 85 years)