Settler of township lots: Lot 10, Conc. 13, McClintock Twp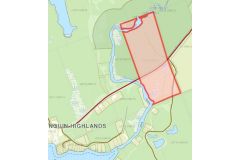 Location: Map point is the approximate location within this 98 acre parcel of land.
Land Acquisition: 1917 Patent from The Crown for 98 acres. Ontario Land Parcel Register - McClintock (Click here and go to Image 214).
Dates of residency: 
Interesting facts: Became part of The Last House Hunt Club.
Andrew Davis was the son of Elihu James Davis. He lived from 851-1936. He was Director and General Manager of the Davis Tannery (his father's company). EH Davis had seven children including sons Elmer, Aubrey and Andrew all of whom were first owners of property in the Oxtongue Lake area. Last son, Elihu James Davis Jr inherited all the family properties which later became part of The Last House Hunt Camp.
Preceding landowner: The Crown
Succeeding landowner:
1960 Elihu James Davis Jr.
1965 Larry Blackburn in trust for The Last House Hunt Club. See Otto H. Peters.