Geographic location: Lots 9 & 10 , Conc. 13 and Lot 10, Conc. 14, McClintock Twp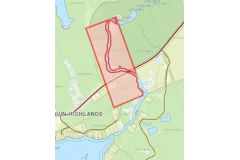 Current address: Map point is the approximate location on the shore of the Oxtongue River about ? mile below Ragged Falls.
Date range: 
Interesting facts: Hunt Camps - The Last House. Source: Facts and Fables of Oxtongue Lake, 2000 pg. 30
According to the registry Office in Minden, this property was purchased from the Crown by Otto Peters in 1928.  (I guess it was built in the 1880's and never registered till O. Peters owned it.) It was purchased by George Fricke from O. Peters in 1942 and used as a private summer residence. in 1964, a group of Huntsville business men, including Bill Blackburn, Jack and Bert Antcliffe, John West, and Bill McDonald bought it and named it "The Last House Hunt Camp". It now [2000] used year-round by camp members.
There are pictures taken in the late 1800's of this log 2 story house. James Asbury (diary 1902) mentions that he and his brother Tom, stayed overnight at the Carlton's before heading up the Oxtongue River to work at logging camps during the winter.
Public access: 
Current use: 
Ownership History:  See Otto H Peters and  Andrew Davis.
Photo: Victor Asbury, Abe McCann, William Carlton, Ray Carlton, Otto Peters. Source Hunt Camps - The Last House. Source: Facts and Fables of Oxtongue Lake, 2000 pg. 30