Geographic location: Lot 8, Conc. 5, Stanhope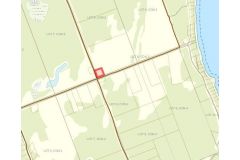 Current address: 1007 Boshkung Lake Rd. North east corner of Boshkung Lake Rd and Buckslide Rd
Date range: 1905 to present
Interesting facts:
Not long after the first log school was built by the settlers on lot 8, concession 5, to serve the pupils between the Peterson and concession 12, S.S. NO. 3 was burned to the ground by those who resented the extra taxes it represented. It was at once rebuilt, and until St. Stephen's Anglican Church was constructed, it serve as both church and Sunday school. Source: In Quest of Yesterday by Nila Reynolds. Published by The Provisional County of Haliburton, Minden, Ontario 1973 pgs. 310-311
John Hewitt recounts: "Joe Beatty [Joseph Bedard Beatty] became Reeve of the township and began to tax people for a school which had been built near Masons. This brought many protests as some families had no children, and early one morning the school burned down. The some of the men were looking at the ruins and discussing what to do, one of the men came to Mr. Beatty and told him the Bible had been saved - there it was, resting safely on a stump, well back from the ruins. This sort of gave an indication of what might have happened. This was the time of year when barns were empty, and as Mr. Beatty and some of the other settlers were determined that school was necessary classes were set up in a barn hay-mow. Plans then went ahead for a new school and one was built on a corner lot between Masons and Beattys, where it carried on successfully until the present one at the four corners was built in the early 1900's at a contract price of $350.00. Source: Lakes of Haliburton Which Form "The Island", Haliburton County Echo, 1971
As a result of the fiery end of the first building. a new frame school was built at the SE corner of the intersection of Buckslide Road and  Walker Line  in 1876 on a half acre purchased from Joseph Beatty for $10. The board and batten structure had a woodshed extending across its width.  It's said that Beatty had to move a building or two to make room for the schoolhouse.
Methodist church services were held here, led by Stanhope patriarch, Thomas Mason – in 1897 there were 52 people enrolled in Sunday School – and services lasted there until St. Stephen's Anglican Church was built on Buckslide Road.
A new frame building, pictured below, was built in 1905 across the road on the NE corner of Walker Line and Buckslide Road. It is now a private home but the shape gives away its history! Miss Robertson, the first teacher at the third building in 1905 received the princely sum of $100 for a 9-month school term. Expenses for the school that same year were $304.50. In later years a basement was added as seen in the picture, as were a furnace and indoor washrooms.  Electricity arrived in 1951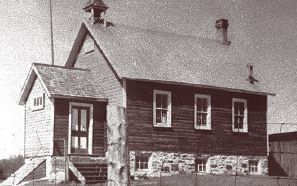 Public access: No
Current use: Private residence
Information sources:
Stanhope Heritage Driving Tour brochure / Stanhope Museum Collection
Stanhope 125th Anniversary 1866-1991, supplement to The Times, Minden, 1991 (written by Carol Moffatt).
Source: In Quest of Yesterday by Nila Reynolds. Published by The Provisional County of Haliburton, Minden, Ontario 1973 pgs. 310-311
Photo: Students 1918 Bottom row, second from right is Wilfred Mason; top left back row is Myra Mason; top right third in is Dick Hewitt (Peter Hewitt's dad). Photo taken by Margaret Hewitt (Coulter), the teacher in 1918. Source: Peter Hewitt's Photo Collection 'hewitt001'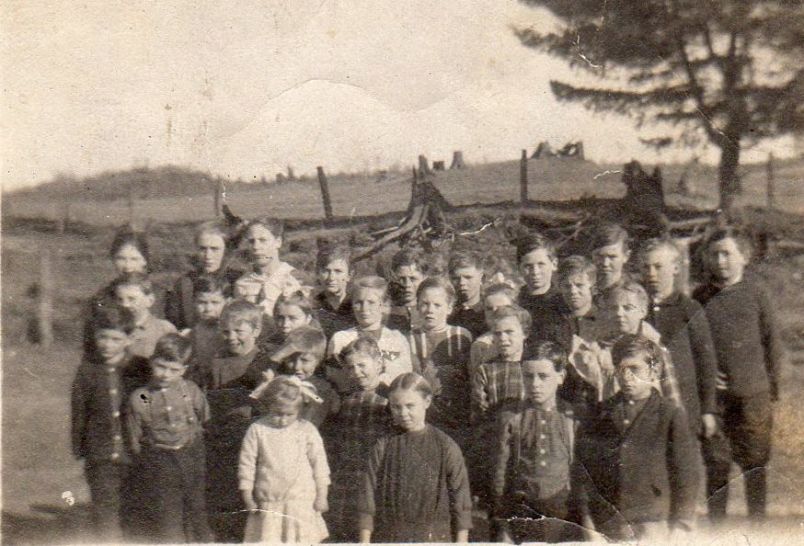 Photo 2: Students in front of the Boskung School around 1920. Source: Pick of the Past. Haliburton Echo