Geographic location: Lot 10, Conc. 9, Stanhope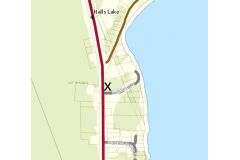 Current address: Hwy 35 at Hillcrest Lane
Date range:
Interesting facts:
The dance hall, which does not seem to have had a name, was a big square stick building with a cottage roof (slanted on all four sides).
Dances were held there in the late 50s with 45 rpm records.
Johnny Down was a horn player from Toronto who came up to the area with John Hart (his father-in-law) to play, and eventually bought the property.
Charles "Slim" Brandon, who ran Briscoe's Fish & Chips, was a baker who played boogie piano.
Billy Cooper played fiddle,

Bill Gartshore

called square dances, and his wife Amy played piano.
The building eventually collapsed.
From Recollections From Summers at Halls Lake, written by Bob Mills, 2019:
As for entertainment, it's surprising now to realize there was a dance hall at Halls Lake directly opposite to what is today the bakery named Sage. Every Friday and Saturday night from the late 30's through the war years my mother met with friends and danced the night away to 78 RPM records and on occasion, a live band. Much later in the 1950's came other dance hall venues in Carnarvon. These were Medley's and Maebar.
Joyce Gibson's cottaged on Halls Lake in the 1940's. She remembers square dances on Saturday nights at the wooden building between the stone house and Loralea Lodge. Mr Cooper played the fiddle. There were benches along the wall where the children slept mostly. 
Public access: No
Current use: Private