Settler of township lots: Lot 11, Conc. 9, Stanhope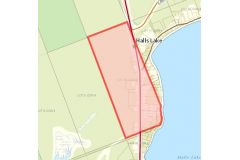 Location: Map point is the approximate location within this 87 acre irregular, waterfront lot which runs south from Little Hawk Lake Road, includes Halls Lake Road south past Hillcrest Lane east of Hwy 35 at Halls Lake.
Land acquisition: 1911 from Walter Johnson. Ontario Land Parcel Register - Stanhope (Image 103).
Other land: Lot 11, Conc. 10,, Stanhope: 1911 from Walter Johnson; 1922 Amy Gartshore (his widow)
Dates of residency:
1901 Census of Canada, Anson & Hindon: Metton Gottshall, boarder living with Thomas and Metilda Bradley
1907 Marriage: Amy Welch of Halls Lake
1911 Census of Canada, Stanhope: Milton & Amy Gartshore and daughter Laura M at Lot 12, Conc. 9 Stanhope but there is no record of land acquisition. Location: Little Brother Lake to Little Hawk Lake Road.
1919 Death: Lot 12, Conc. 10, Stanhope. Occupation: lumberman
Other residents: 1891 Stanhope Voters List: R. J. Hunt is listed at Lot 12, Conc. 10 and Lot 15, Conc. 10 for which there is no patent register 
Interesting facts:
Milton Gartshore became a famous logging foreman. Source: In Quest of Yesterday by Nila Reynolds. Published by The Provisional County of Haliburton, Minden, Ontario 1973 pg, 287.
First landowner: 1882 James Cooper
Preceding landowner:1908 Walter Johnson
Succeeding landowner: 1920 William James Cooper, part; 1930 Albert E Hopkins, part; 1936 Laura Gartshore
Link to Settlers of Algonquin Highlands family tree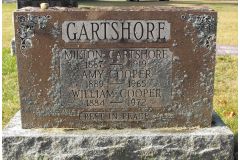 William Milton Gartshore, b. Aug 1886, Haliburton, d. 30 Apr 1919, Stanhope, (Age ~ 32 years). COD: Tuberculosis. Buried: St. Stephen's Cemetery
Family 1: Amy Welch, b. 24 Feb 1889, Anson, d. 06 Jun 1965  Age 76 years)
1. Laura Minnie Gartshore, b. 31 Oct 1909, Haliburton d. 1984 (Age 74 years)
2. William Arthur Gartshore, b. 30 Jun 1911, Stanhope, d. 29 Apr 1989  (Age 77 years)