Geographic location: Lot 4, Conc. 12, McClintock Twp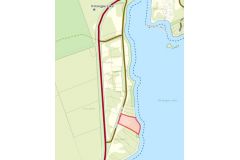 Current address: 1050 Oxtongue Lake Rd. Oxtongue Village
Date range:
Interesting facts: Read CLOVERLEAF COTTAGES, submitted by A. May, Facts and Fables of Oxtongue Lake, 2000 pg. 153
In 1907 John Robertson received a Patent from The Crown on this land, and other lands. In 1925 John Robertson sold his part and other lands to William Keown. From 1925 to 1947, this changed owneership from Keown to Chapin to Elizabeth White to Laverne Case to Florence Green to Edward and Margaret White.
In 1952 Myrtle and Al Fisher purchased 1065 feet of lake front from Edward and Margaret White. In the fall of 1953 they came up, cut a lot of trees and had a bulldozer push a lot of the hill out into the lake to create a level area where the cottages are today. They built one or two cottages and from there expanded to seven plus their office and living quarters which were built at the bottom of the hill, on the left side of the driveway. All cottages had an outhouse at back of the cottage, where cars now park. Never were outhouses as clean and sanitary as at the Cloverleaf Cottages. Water was supplied from 2 dug wells. Both had pumps on them (Al was kept busy trying to teach the children not to play with the pumps).
Myrtle and Al sold Cloverleaf Cottages, except one lot at the south end of the property, to Josie and Ted Wesolowski.
Public access: Yes
Current use: Resort - Cloverleaf Cottages
Ownership History
1913 Patent from The Crown for 96 acres to

John & Isabella (Irving) Robertson

. Ontario Land Parcel Register - McClintock (Image 44).
1925 William Glass Keown
1927 Elizabeth McCann
1928 William Chapin