Settler of township lots: Lot 6, Conc. 4, Guilford (Stanhope area)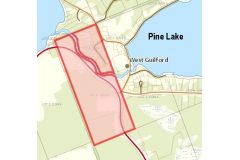 Location: Map point is the approximate location within this 100 acre lot at West Guilford on the channel between Green and Pine Lakes.
Land acquisition: 1910 William H. Stevens (uncle) from Jane Foster (formerly Stevens). Nelson is mentioned but cannot determine context. Ontario Land Parcel Register - Guilford (Image 46).
Other land: Lot 8, Conc. 4, Guilford - 1912 from Ernest Sims 26 aces on south shore of Pine Lake. Ontario Land Parcel Register - Guilford (Image 108)
Dates of residency:
1903 Business Directory, Guilford: Nelson Stephens, Maple Lake, Lot 6, Conc. 4
1911 Census of Canada, Guilford: Nelson & Essie L. Stevens
Interesting facts: q
George Nelson Stevens, son of pioneer James Stevens, operated a general store in Guilford and also dealt in livestock. Source: In Quest of Yesterday by Nila Reynolds. Published by The Provisional County of Haliburton, Minden, Ontario 1973. pg. 159
Preceding landowner:
1865 The C .L. & C. Co from The Crown
Succeeding landowners:
1883 Jane Stevens
1910 Jane Foster (formerly Stevens) to William Henry Stevens
Link to Settlers of Algonquin Highlands family tree
William Nelson Stevens, b. 03 Dec 1875, Stanhope, d. 15 Nov 1943, Guilford, (Age 67 years) Buried: St. Peter's Anglican Cemetery
Parents:
• James Stevens, b. Abt 1851, Fenelon, d. 07 Feb 1882, Dysart, Haliburton, (Age ~ 31 years)
• Jane Taylor, b. Abt 1857, England
Grandparents:
• Robert Gourley Stevens, b. 01 Dec 1816, Quebec, d. 29 Sep 1906, Stanhope, (Age 89 years)
• Eliza Bell, b. 1826, Northern Ireland  d. 21 Nov 1911, Fenelon Falls, (Age 85 years)
Essie Luella Griffin, b. 29 Dec 1883, Ontario, d. 11 Sep 1959  (Age 75 years)