Settler of township lots: Lot 1, Conc. 1, Hindon (Stanhope area)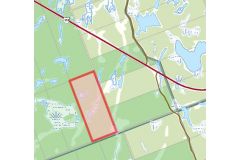 Location: Map point is the approximate location within this 104 acre lot south of Hwy 118 one lot west of Bobcaygeon Road.
Land acquisition: 1916 purchased from his father, James Toye, for $600 and other considerations. Ontario Land Parcel Register - Hindon (Image 146).
Other land:
Lot 3, Conc. A, Hindon - 1916 from James Toy, his father. Ontario Land Parcel Register - Hindon (Image 8).
Lot 1, Conc. 2 & 3, Hindon - 1917 from Donald Alexander Ross: 1931 His Majesty. Ontario Land Parcel Register - Hindon (Images 178 & 209).
Dates of residency:
1893 Anson & Hindon Townships Directory:James Toy, Petersons Cors
1908 Birth registration of daughter Mabel Ellen. This location is described as Hindon Hill.
1911 Census of Canada, Hindon: William James & Ida Jane Toy at Lot 1, Conc. 2, Hindon. This lot is not patented - Ontario Land Parcel Register - Hindon (Image 148).
1927 Relocated in Temiskaming: William Toye and family were the first to move from Hindon Hills to the Charleton area under the government's relocation plan to swap farms in Haliburton County for land in Sharp Township. About 25 families applied for the swap.
1949: William and Ida Toye moved from their farm to a cozy home in Charleton where they enjoyed reading in the winter and gardening in the summer. By about 1955 they had 34 grandchildren and 1 great-grandchild.
Interesting facts:
Since Hindon Hill's soil, even along the Bobcaygeon Road and Brady's Lake, was not suited for agriculture, the land deteriorated until the Ontario government formulated a scheme by Hindon farmers were to be transplanted to the New Ontario clay belt; the abandoned fields were to be reforested.
The move was made in 1927 with the government bearing the expense; the livestock was driven from the barns of Hindon Hill to the railway station at Gelert for shipment north. Some of the families transporte thus were D. Toye, Billy Toye, and James Toye. See Toye Family Toronto Star article 1927 below.
Source: In Quest of Yesterday by Nila Reynolds. Published by The Provisional County of Haliburton, Minden, Ontario 1973 pg. 283
Preceding landowner: 1885 James Toye (his father)
Succeeding landowner: 
1931 His Majesty the King
1969 Lot designated an area of subdivision control
Link to Settlers of Algonquin Highlands family tree
William James Toy, b. 19 Aug 1882, Anson d. 10 Nov 1960 Temiskaming
Parents:
• James Toy, b. 9 Jul 1845, Ireland
• Jane Johnston, b. Abt 1853, Ireland d. 23 Apr 1885, Peterson's Corners, (Age ~ 32 years)
Jenny Ida Sawyer, b. 28 May 1883, Ontario,
Parents:
• George Wesley Sawyer, b. 27 Feb 1858, Ontario, d. 3 May 1912, Sherborne, (Age 54 years)
• Diannah MacDonald, b. Jul 1861, Ontario
Children:
1. Mabel Ellen Toye, b. 28 Mar 1908, Hindon
2. Edith Estella Toye, b. 8 Jul 1909, Hindon Hill
3. James Henry Toye, b. 9 Feb 1911, Hindon d. 3 Mar 1911, Hindon (Age 0 years)
4. Annie May Toy, b. 19 May 1912, Anson
5. Alice Gertrude Toy, b. Abt 1914, Ontario
6. Jennie Alma Toye, b. Abt 1914, Ontario
7. Ada Pearl Toy  b. Abt 1916, Ontario
8. Mildred Eileen Toy, b. Abt 1917
9. Emma Evelyn Toy, b. Abt 1918
10. Wilma Blanche Toye, b. 13 Sep 1920, Hindon
Photo 1 Left: William Toye. Ancestry.ca megan_larocca originally shared this on 20 Jun 2014. Right: Jennie Sawyer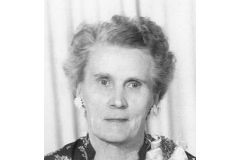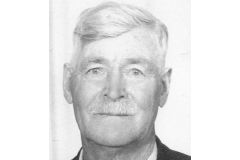 Photo 2. Toye Family Newspaper Article. Toronto Star 1927. Ancestry.ca JLBHOUNDSandELDERS originally shared this on 08 Nov 2011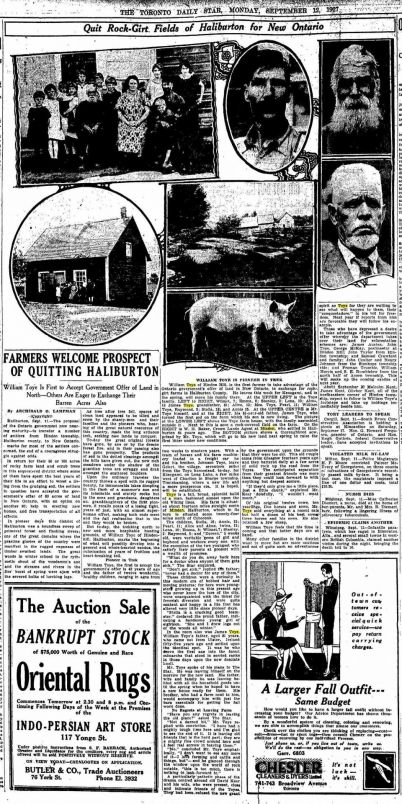 Photo 3. September 14 1927 William Toye Globe & Mail. Ancestry.ca JLBHOUNDSandELDERS originally shared this on 08 Nov 2011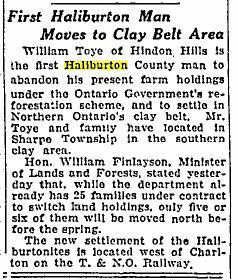 Photo 4. Family Photo Toye Family. BILL AND IDA WITH FAMILY, HINDEN TWP. FAMILY PHOTO OF BILL AND IDA WITH FAMILY NEAR MINDEN ONT. APPROX 1920 - YEARS BEFORE MOVING TO ENGLEHART AREA  IN 1922. Ancestry.ca beckc77 originally shared this on 01 Mar 2012 & Brian Watson originally shared this on 17 Aug 2016