Settler of township lots: Lot 2, Conc. 4, Guilford (Stanhope area)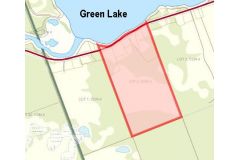 Location: Map point is the approximate location within this irregular, 74 acre waterfront lot on the south shore of Green Lake.
Land acquisition: 1900 from The C .L. & C. Co. Ontario Land Parcel Register - Guilford (Image 15)
Dates of residency:
1890 Marriage: Stanhope
1891 Birth of Son Wesley "Bert" Ethelbert Boice (1891–1964)  Township of Stanhope
1903 Business Directory, Guilford: W Boice, Maple Lake, Lot 2, Conc. 4
1909 Death of Son Hollie Kenneth Boice (1899-1909) (Age 10 years) at Lot 2, Conc. 4, Guilford COD: Accidental drowning
1911 Census of Canada, Guilford: William & Mary Boice and 6 children 
1937 Death Certificate: Grocery Merchant. Lot 7, Conc. 4, West Guilford
Interesting facts: aka William James Bice Boice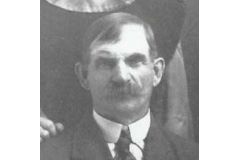 William Boyce was a genial trapper and woodsman who operated a general store in Guilford. Source: In Quest of Yesterday by Nila Reynolds. 
Published by The Provisional County of Haliburton, Minden, Ontario 1973 pg 159
The favourite sport in Stanhope's early days was baseball. Each settlement boasted a nine, and no summer event, be it picnic, Dominion Day or the Twelfth of July, was complete without a contest between the leading teams. The Maple Lake ball team, which travelled by wagon as far as Minden for games, did most of their playing on a diamond in Melville's field. One of their renowned athletics was Bill Boice. Ibid. pg. 310
Wm Boice represented Maple Lake on the 1900 committee that merged the Maple Lake Church with the 21 member congregation at Pine Lake Church, both of which met in school houses, to build the frame Maple Lake Church at the burying ground at Clark's Corners.  Source: Ibid. pg.  326
Succeeding landowner: 1942 Mary Boice, (William's widow) sold to Cora Sawyer (her daughter).
Link to Settlers of Algonquin Highlands family tree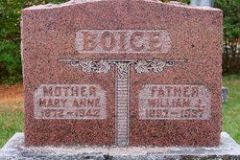 William James Boice, b. 29 Mar 1867, Coboconk d. 1937 (Age 69 years) West Guilford. Buried: Maple Lake Cemetery
Parents: They had 10 children
• Isaac Boice, b. 18 Jan 1839, Somerville, Victoria, Ontario d. 6 Feb 1914, Dysart (Age 75 years)
• Elizabeth Holly Amelia Barjarow, b. 07 Jul 1843, Victoria, Ontario, d. 27 Aug 1917, Haliburton (Age 74 years)
Mary Ann Victoria Cooper, b. 24 May 1872, Stanhope d. 1942, Stanhope (Age 69 years)
Parents:
• William Cooper, b. 29 Sep 1843, England  d. 22 May 1926, Stanhope, (Age 82 years)
• Fanny Sims, b. 7 Apr 1843, England  d. 29 Sep 1923, Stanhope, (Age 80 years)
Children:
1. Wesley Ethelbert Boice, b. 8 May 1891, Stanhope, d. 1965  (Age 73 years)
2. Hazel Alene Boice, b. 26 May 1892, Stanhope,  d. 2 May 1946, Guilford,  (Age 53 years)
3. Stella Lerena Boice, b. 02 Nov 1893, Ontario
4. Cora Lillian Boice  b. 01 Jun 1896, Stanhope, d. 17 Feb 1983  (Age 86 years) 
5. Hollie Kenneth Boice  b. 15 Jul 1899, Guilford, d. 02 Dec 1909 (Age 10 years) COD: Accidental drowning
6. Reginald Harold Boice, b. 04 Sep 1901, d. 23 Sep 1901, Stanhope, (Age 0 years)
7. Harry Rexford Boice b. 31 Mar 1903, Haliburton, d. 01 May 1993  (Age 90 years)
8. Petra Mary Boice, b. 02 May 1910, West Guilford, d. 26 May 1995  (Age 85 years)
Photo 1: Boice family picture - William, Petra Mary Jane,  Stella, Burt, Cora, Rex, Hazel. Source: Ancestry.ca PeggySawyerPouw originally shared this on 24 Oct 2010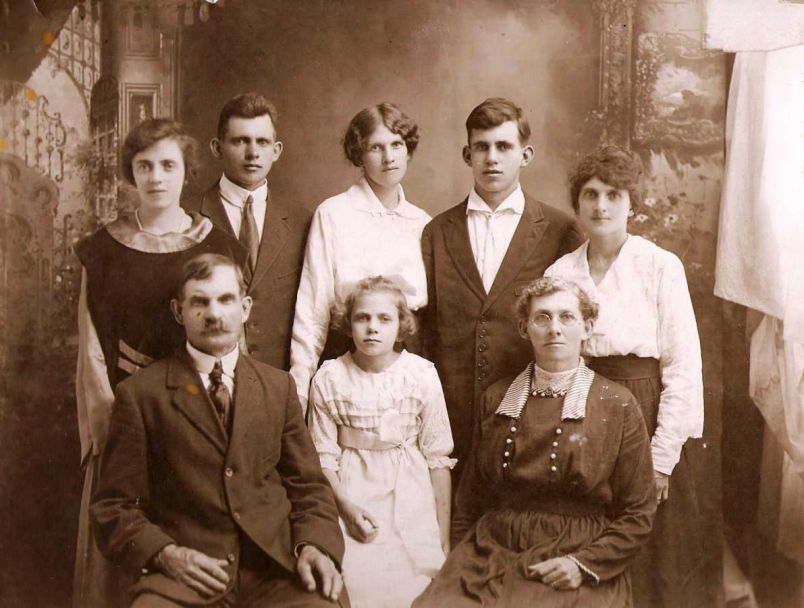 Photo 2: Boice house. Source: Ancestry.ca PeggySawyerPouw originally shared this on 17 Oct 2010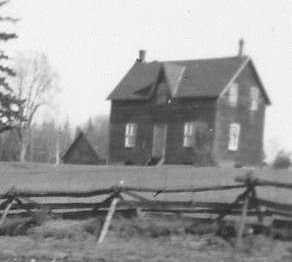 Photo 3: Grandma Sawyer family. Source: Ancestry.ca PeggySawyerPouw originally shared this on 08 Sep 2010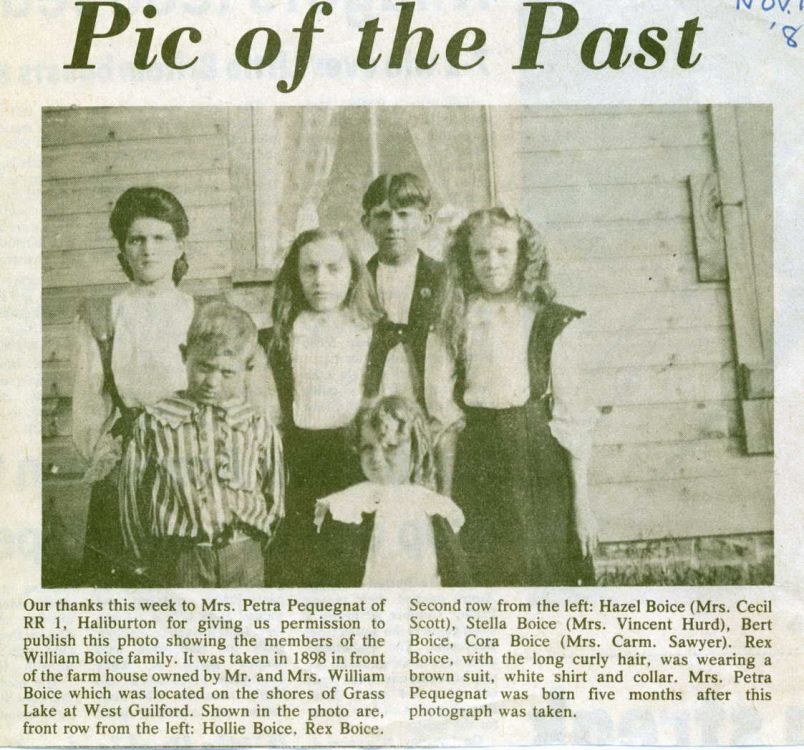 Photo 4: Old hunting picture. Source: Ancestry.ca PeggySawyerPouw originally shared this on 08 Sep 2010


Photo 5: West Guilford store, built by William Boice in 1922 and operated until 1940. Source:  PeggySawyerPouw originally shared this on 09 Oct 2010