Settler of township lots: Lot 10, Conc. 5, Guilford (Stanhope area)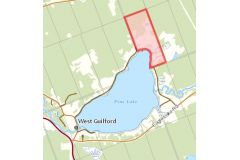 Location: Map point is the approximate location within this irregular, waterfront lot on Nila Road at the north east end of Pine Lake.
Land acquisition: 1936 84 acres north of the swamp from the Estate of his father, William Barnum. Ontario Land Parcel Register - Guilford (Image 123).
Dates of residency: 1972 Death Maple Lake
Interesting facts: 
Preceding landowner: 1883 William Barnum, his father
Succeeding landowner: Plan of subdivision
Link to Settlers of Algonquin Highlands family tree Not listed Source: Ancestry.ca
William Herbert Barnum b. 28 Nov 1888, Ontario d. 2 Nov 1972 Maple Lake. According to

Find A Grave

 William was the 7th child of William Barnum and Catherine Dauncey. He is buried with them at Maple Lake Cemetery.
Parents:
• William Barnum, b. 13 May 1846, Northumberland, Ontario d. 20 Jan 1924, Haliburton
• Catherine Dauncey, b. Abt 1848, Northumberland, Ontario, d. 14 Jul 1935, West Guilford, (Age ~ 87 years).