Settler of township lots: Lot 6, Conc. 4, Stanhope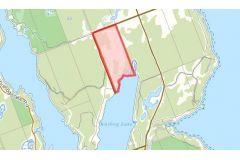 Location: Map point is the approximate location on this irregular, waterfront lot on the east side of Walkers Line on Kushog Lake running north to Switchback Drive. Kushog Lake is named Kahshahgahwigamog Lake in William French's 1877 mortgage document.
Land acquisition: 
1861 Lands Liable to Taxation: Township of Stanhope Patent Register - 94 acres to David Cummings (not in AH Family Tree); 1872 registered to William French.
1872 Patent from The Crown. Ontario Land Parcel Register Index for Conc. 4 Stanhope (Image 71)
1877 Mortgage for $230 on the property payable to William Lee. William & his wife Polly Ann signed this mortgage document with an "x". (Stanhope Museum collection #019.02.32)
1878 Mortgage for $400 on the property + $400 for shares in the Building & Loan Association.  William & his wife Polly Ann signed this mortgage document with an "x".(Stanhope Museum collection #019.02.27)
Dates of residency:
1870 Peterborough County Directory, Stanhope: Wm. French, Lot 6, Conc. 4
1871 Census of Canada: Stanhope
Interesting facts:
William French and his family emigrated to Minnesota around 1880. Shortly thereafter, in 1882, William French, now a widower with nine children, married widow Sarah Ann McBride, who had two children. By 1906, William and Sarah had moved to Bentley, Alberta. William & Sarah lived the rest of their lives there.
Preceding landowner: The Crown
Succeeding landowner:
1880 Reuben R. Henderson for $600
1900 Richard W. Johnson
1916 William Ferguson
1929 Thomas W. Harrison B&S for $1,500
Link to Settlers of Algonquin Highlands family tree
William French, b. Abt 1839, Ontario
Family 1: Polly Ann Thompson, b. Abt 1846, Ontario
1. Mary Margaret French, b. Abt 1859, Ontario
2. Angus French, b. Abt 1862, Ontario
3. Gordon French, b. 05 Apr 1865, Minden,d. 30 Apr 1948, Kamloops, BC, (Age 83 years)
4. John Harvey French,  b. Abt 1868, Ontario
5. Victoria French, b. Abt 1869, Ontario
6. Benjamin French, b. 11 Sep 1871, Stanhope
7. Agnes Jane French, b. 16 Nov 1872, Stanhope
8. Joseph French, b. 22 Feb 1875, Stanhope
9. Annie French, b. 10 Feb 1877, Stanhope
Family 2: Sarah Ann (McBride), b. 4 Nov 1853, Ontario
1. Alice A French, b. Abt 1885, Minnesota, USA 
Photo: Alexander Niven's Insurance Survey Notebook - Haliburton Highlands Museum
.