Settler of township lots: Lot 1, Conc. 5, Guilford (Stanhope area)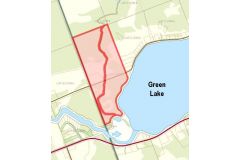 Location: Map point is the approximate location within this irregular waterfront 77 acre lot on the east shore of Green Lake transected by Green Lake Road.
Land acquisition: 1865 from The C .L. & C. Co. Ontario Land Parcel Register - Guilford (Image 2).
Dates of residency:
1861 Census of Canada, Stanhope: James, Catherine & Wm. C (age 8)
1881 Census of Canada, Stanhope: William C Melville, hunter/farmer
1883 Married Catherine Jones at Maple Lake in Stanhope
1883 Stanhope Voters List: William C. Melville, owner, Lots 28, 29, 30, Conc. 5
1884 Birth of Daughter Ethel Melville(1884–1963) Maple Lake
1889 Moved to US
1892 Birth of Son North Dakota
1936 Death: Loreburn, Saskatchewan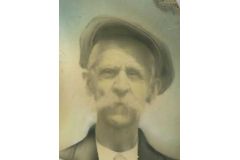 Interesting facts:
The years before 1885 saw a steady influx of homesteaders to West Guilford, including W. Melville. Source: In Quest of Yesterday by Nila Reynolds. Published by The Provisional County of Haliburton, Minden, Ontario 1973 pg. 155
First landowner: 1865 The C .L. & C. Co from The Crown.
Succeeding landowner:
1883 James Sawyer, et al
1886 Isaac Bice
1907 Henry Clair Sisson
1936 Sephrona Sisson
1970 L E Fry & F W Chambers
1974 Brown Camping Supplies
Link to Settlers of Algonquin Highlands family tree
William Clark Melville, b. Jun 1855, Ernestown, Ontario, d. 15 Apr 1936, Saskatchewan, (Age ~ 80 years)
Parents:
• James J Melville, b. 1833, Scotland d. 14 Feb 1887, Stanhope, (Age 54 years)
• Catharine Elizabeth Clark, b. 06 Jan 1831, Ernestown,  Ontario, d. 05 Nov 1917, Stanhope, (Age 86 years)
Catherine Jones, b. 20 Feb 1864, Stanhope, d. 11 Oct 1941, (Age 77 years)
Parents:
• Thomas Jones, b. 10 Mar 1833, England d. 22 Feb 1917, Stanhope, (Age 83 years)
• Catherine Elizabeth May, b. 09 Jun 1834, England d. 01 Jul 1911, Stanhope, (Age 77 years)
Children:
1. Ethel Melinda Melville, b. 14 Oct 1884, Ontario,  d. 01 Jul 1963, Minnesota, USA 
2. William James Melville, b. 31 May 1886, Stanhope, d. 14 May 1940, Montana, USA (Age 53 years)
3. Flossie Agnes Melville, b. 15 Jan 1888, Stanhope, d. 29 Jul 1975 (Age 87 years)
4. Paul Melville, b. 18 Jun 1892, North Dakota, USA d. 26 Feb 1970, Castlegar, BC (Age 77 years) 
5. John Edmond Melville, b. 05 Apr 1895, North Dakota, USA d. 24 Apr 1915, Ypres, Belgium (Age 20 years)
6. Catherine Margaretta Melville, b. 1901, North Dakota, USA d. 11 Nov 1982  (Age 81 years)
7. Thomas Harold Melville, b. 1903, North Dakota, USA d. 11 Oct 1974  (Age 71 years)
Photo: Catherine Jones Melville and William Clark Melville. Source: Ancestry.ca. Bonnie_Connolly originally shared this on 21 Jan 2016