Settler of township lots: Lot 5, Conc. A, Hindon (Stanhope area)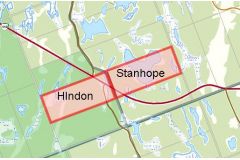 Location: Map point is the approximate location within this lot which runs east from Hwy 118 to Brady Lake Road
Land acquisition: No record of ownership. 1948 Patent to Elmer Crawford from His Majesty. Ontario Land Parcel Register - Hindon (Image 14).
Dates of residency:
1871 Census of Canada, L, A & Hindon: Alexander Taylor 39, Liza Margret Taylor 39, Daniel Taylor 14, Rosy Taylor 12, Thomas Taylor,11, Robert Taylor 8, Jennet Tylor 6, Alexander Tylor 4, Hugh Tylor,2, James Tylor 12
1890 Stanhope Voters List: Taylor Thomas, owner, Lot 3, Conc. A
1881 Census of Canada, HIndon: Alexander Taylor 48, Eliza Margaret Taylor 48, Daniel Taylor 24, Thomas Taylor 21, Johnie Taylor 16, Hugh Taylor 12,  John Taylor 6
1891 Census of Canada, HIndon: Eliza Taylor 57, Daniel Taylor 30, Thomas Taylor 28, Hugh Taylor 24, John Taylor 17
1901 Census of Canada, Hndon :Eliza Taylor 65, Dannel Taylor 38, Thomas Taylor 35, Eli Lunan, 20
1911 Census of Canada, Hindon - Lot 5, Conc. A: John Boyd, Mary Boyd, John Boyd Jr, Jennie Boyd, Daniel Taylor Jr, John Taylor, Thomas Taylor
Interesting facts:
First landowner:
Preceding landowner:
Succeeding landowner:
Link to Settlers of Algonquin Highlands family tree
Birth: 1860, Ontario. Birth date given as 18 May 1866 in 1901 census record but other records list him born from 1857 to 1863 but most of them 1860. Death record says b. 1858, that he was single and his father was Dan Taylor.
Parents:
• Alexander Taylor 1832-~1901
• Elizabeth Margaret Johnston 1833-1902
Death: bef 1916. When his brother, Daniel, died, the obit states that he was survived by Hugh and John. Single, son of Daniel Taylor Sr. Informant is John Taylor, Hindon Hill.