Settler of township lots: Lot 16, Conc. 13, Minden (Stanhope area)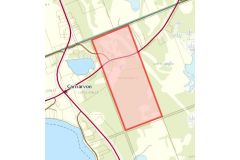 Location: Map point is the approximate location within part of this 97 acre lot in Carnarvon at Hwy 35 and East Road.
Land acquisition: 1911 from George Pearson Hart. Ontario Land Parcel Register - Minden (Image 370).
Other land:
Lot 21, Conc. 12, Minden - 1912 from Mary Ellen Fetterly, West half; 1918 to Peter Frederick Dawson. Ontario Land Parcel Register - Minden (Image 130)
Lot 24, Conc. 12, Minden - 1910 from Henry Clair Sisson. Ontario Land Parcel Register - Minden (Image 139).
Lot 25, Conc. 12, Minden - 1921 from John Brown Jr. Ontario Land Parcel Register - Minden (Image 144)
Dates of residency:
1886 Birth of Son Clayton Percival Rogers (1886–1974) Minden Township
1893 Anson & Hindon Townships Directory: T H Rogers, Minden
1897 Birth of Son William Edgerton Rogers (1897–1932) Anson Township
1901 Census of Canada, Anson
1911 Census of Canada, Stanhope
1846 Death of Wife Susan Ella Unger (1863–1946) Carnarvon
1946 Death in Carnarvon
Interesting facts: See HIstoric Site - Rogers Store. Thomas was Clayton Rogers' father.
Carnarvon Post Office - 1897 to 1970: Current address: 9271 Hwy 118. The Peterson Road was on the dividing line between Minden and Stanhope Townships, and the post office during these years was on the Minden side of the road, located in the general store that had a number of owners over time.Thomas Henry Rogers was the postmaster from Jan 9, 1907 to Sep 6, 1943. During the years that Thomas Rogers and his son Clayton ran the store and post office, a very stern-looking Queen Victoria stared down on all who came to the postal counter from a picture on the wall immediately above and behind the clerk. This picture is now in the possession of the Stanhope Museum.
The Haliburton Business Directory for 1918:
Carnarvon, Stanhope Tp - Rogers, Thos H, postmaster and merchant
 Preceding landowner: 1901 George Pearson Hart from The Crown
Succeeding landowner:
1929 Clayton P Rogers
1931 Sinclair Russell part.
Link to Settlers of Algonquin Highlands family tree
Thomas Henry Rogers, b. 24 Nov 1859, Northumberland, Ontario, d. 19 Jun 1946, Carnarvon, (Age 86 years) COD: Arteriosclerotic & hypertensive heart disease, prostate hypertrophy. Buried: Minden Cemetery
Susan Ella Unger, b. 5 Jan 1863, Port Perry, Ontario, d. 6 Jul 1946, Carnarvon, (Age 83 years) COD: Degenerative myocarditis, cancer of colon. Buried: Minden Cemetery
Children:
1. Clayton Percival Rogers, b. Jun 1886, Minden, Haliburton, Ontario, Canada Find all individuals with events at this location,   d. 06 Dec 1974  (Age ~ 88 years)
2. William Egerton Rogers, b. 19 May 1897, Anson, d. 07 May 1932, Toronto, (Age 34 years)
Photo: Thomas (Tom) Rogers and wife with sons, Clayton, upper right and William Edgerton, lower right, 1900. Source: Ancestry.ca robaloh originally shared this on 12 Jan 2014