Settler of township lots: Lot 13, Conc. 13, Minden (Stanhope area)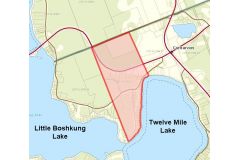 Location: Map point is the approximate location within this 109 acre lot on Peterson Road including Hwy 118, Turning Leaf Lane and Shady Lane on the north shore of Twelve Mile Lake
Land acquisition: 1888 Thomas Cowan from Andrew Brown. Ontario Land Parcel Register - Minden (Image 260).
Dates of residency: 
1891 Census of Canada, Minden: Occupation farmer. Living at Lot 13, Conc. 15 Minden with wife Mary Ann, 54, & son George, 8.
1893 Minden Township Directory: Thomas Cowan, Carnarvon
1901 Census of Canada, Minden: Immigrated in 1879. Living with son George, 19 (mistakenly listed as grandson)
1910 Marriage to Eliza Plested
1916 Residence: Winnipeg Centre, Manitoba, Occupation hotel caretaker. Living with wife Eliza, 40. 
Interesting facts: aka Thomas Cowan
Preceding landowner:
1866 William Weir from The Crown
1879 Andrew Brown
Succeeding landowner:
Link to Settlers of Algonquin Highlands family tree
Thomas Cowen, b. 18 Oct 1846, England d. after 1917, Canada
Parents:
• William Cowen, b. Abt 1812,  England 
• Elizabeth Cousins, b. Abt 1821, England
Family 1. Mary Ann Retallick, b. 2 Jul 1836, England d. 24 Feb 1901, Minden, (Age 64 years)
? Emily Cowen, b. 1860, England
1. George Cowen, b. 15 Nov 1881, England
Family 2. Eliza Plested, b. Abt 1869