Settler of township lots: Lot 16, Conc. 3, Stanhope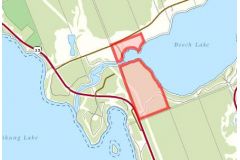 Location: Map point is the approximate location within north half of this 93 acre lot on the north shore at the west end of Beech Lake at Dominion Road.
Land acquisition: 1930 from James Henry Sisson. Ontario Land Parcel Register - Stanhope (Image 271).
Dates of residency:
1891 & 1901 Census of Canada, Stanhope
1911 Census of Canada: Peterborough
Interesting facts:
Samuel Ferguson, Pte. Veteran:
Enlisted: 14 Mar 1917, Minden
Occupation and residence: Carpenter, Carnarvon. Lot 22, Conc. 1, Stanhope on 1901 census
Battalion: Pre-enlistment - 45th Volunteers, Lindsay; 252nd Overseas Battalion, C.E.F.; 6th Reserve Battalion; 21st Battalion, Canadian Infantry; 44th Infantry Battalion
Notes on war service: Diagnosed with lobar pneumonia on 19 Jun 1917. Served in France. Discharged 6 Jun 1919 at Kingston, Ontario.
First landowner: 1880 Robert Ferguson from The Crown
Succeeding landowner:
Link to Settlers of Algonquin Highlands family tree
Samuel Ferguson, b. 21 Oct 1886, Stanhope, d. 05 Feb 1952  (Age 65 years)
Parents:
• Robert Ferguson, b. 12 Mar 1833, Northern Ireland d. 30 Jun 1906, Stanhope, (Age 73 years)
• Jane Taylor, b. 25 Dec 1850, Northern Ireland d. 27 Feb 1902, Stanhope, Age 51 years)
Kate Violet Weston, b. Abt 1904, England
Divorce information recorded in 1932 on marriage registration.