Settler of township lot: Lot 2, Conc. 2, Stanhope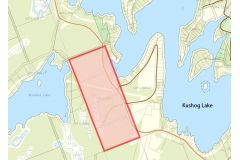 Location: Map point is the approximate location on the 100 acre lot east of Hindon Lake to Kushog Lake Road at Oliver Crescent.
Land acquisition: 
1872 This acre lot was registered as a Free Grant through the Free Grant and Homestead Act of 1868 under the locatee name James Stephen (his son).
1872 Lands Liable to Taxation: Township of Stanhope Patent Register - 102 acres to James Stevens (his son?).
1896 Patent from The Crown. Ontario Land Parcel Register - Stanhope (Image 6).
Other land:
Lot 3, Conc. 2, Stanhope: 1874 The Crown to George Wellington Stevens (father); 1883 Jane Grey Stevens (wife) for $600; 1905 William H. Stevens (brother) for $500; 1934 Oliver Stevens (W. H. Stevens' son) - north half & Ethelbert Harrison (W. H. Stevens' son-in-law).
Lot 3, Conc. 3, Stanhope: was not patented until 1955.
Dates of residency: 
1870 Peterborough County Directory, Stanhope: Robert Stevens, Lot 3, Conc. 2
1881 Census of Canada, Stanhope: Robt & Elisa Stevens with their children Jane, Matilda, Robt, Sarah and Wm. Henry at Lots 2 & 3, Conc. 2
1883 Stanhope Voters List: Robert Stevens, owner, Lot 3, Conc. 2
1890 Stanhope Voters List: R G Stevens, owner, Lots 2, 3, Conc. 2, 3
1891 Stanhope Voters List: also Lot 3, Conc. 2
1899 Stanhope Directory
1901 Census of Canada, Stanhope:  Robert S & Eliza Stevens; no children
1903 Business Directory, Stanhope: R G Stevens, Petersons Crs, Lot 2, Conc. 2
1903 Stanhope Voters List: Rober Stevens, farmer, Lot 2, Conc. 2
1906 Death is recorded at Lot 2, Conc. 2.
1911 Stanhope Post Office: E Stevens, widow, Petersons Cors 
Interesting facts:
Preceding landowner: The Crown
Succeeding landowners:
1897 to William Hartle, a land agent from Minden,  for $1, then to Eliza Stevens for $1 the same day
1911 Maria & Matilda Stevens (daughters) for $2 plus natural love and affection
1923 William H. Stevens for $800
Link to Settlers of Algonquin Highlands family tree
Robert Gourlay Stevens:  b. 01 Dec 1816, Quebec  d. 29 Sep 1906, Stanhope, (Age 89 years). COD: Old age. Buried Maple Lake United Church Cemetery.
Parents: Alfred Stevens; Ruby Halladay
Eliza Bell: b. 1826,  Northern Ireland  d. 21 Nov 1911, Fenelon Falls, (Age 85 years)
Children:
1. Alfred Stevens, b. 1846, Trenton,  d. 18 Oct 1916,  Parry Sound, Age 70 years)
2. Ann Eliza Stevens, b. Abt 1848, Fenelon, ,   d. 11 Jul 1898, Victoria, Ontario, Age ~ 50 years)
3. Maria Stevens, b. Abt 1850, Ontario
4. James Stevens, b. Abt 1851, Fenelon, d. 07 Feb 1882, Dysart,  (Age ~ 31 years) "Killed by the fall of a tree."
5. Caroline Stevens, b. Abt 1854, Fenelon, Victoria, Ontario
6. Charlotte Stevens,b. 25 Mar 1856, Fenelon, d. 04 Apr 1909, Fenelon Falls, n  (Age 53 years) 
7. George Wellington Stevens, b. 20 Aug 1857, Fenelon, d. 24 Mar 1911, Coboconk, (Age 53 years)
8. Matilda Stevens, b. Abt 1859, Ontario, d. 22 Oct 1924, Vancouver (Age ~ 65 years)
9. Robert John Stevens, b. 10 Aug 1863, Ontario,  d. 28 Feb 1946,  British Columbia, (Age 82 years) 
10. Mary Jane Stevens, b. 1864, Ontario
11. William Henry Stevens, b. 02 Oct 1865, Stanhope  d. 15 Jul 1935, Stanhope, (Age 69 years)
12. Sarah Stevens, b. Abt 1867, Ontario