Settler of township lots: Lot 2, Conc. 6, Guilford (Stanhope area)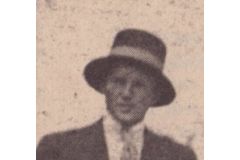 Location: Map point is the approximate location within this 80 acre lot south of Barry Line east of Cameron Lake, north of Green Lake.
Land acquisition: 1913 - 80 acres from Benjamin Bird for $525. Ontario Land Parcel Register - Guilford (Image 5).
Dates of residency:
1911 Census of Canada, Guilford: Clossan & Myrtle Barry
1918 Marriage: Beatrice Ida Henderson (1901–1973) Carnarvon
1921 Census of Canada, Guilford
1969 Death: West Guilford
Interesting facts: 
Preceding landowner:
9 May 1865 The Crown to The C .L. & C. Co
? James Barry
1892 John Horsley 81 acres for $500
1903 Benjamin Bird 80 acres for $525
1918 Marriage: Carnarvon
1969 Death: West Guilford
Succeeding landowner: 1944 Allan Barry
Link to Settlers of Algonquin Highlands family tree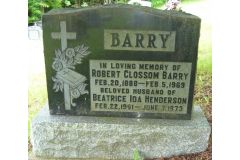 Robert Clossom Barry, b. 20 Feb 1888 d. 05 Feb 1969, West Guilford. Buried: West Guilford Cemetery
Parents: 
• George Bailey Barry, b. 1857, d. 01 Jul 1926, Dysart, (Age 69 years);
• Marry Jane Sawyer, b. 01 Sep 1862, Ontario d. Dec 1924, Ontario (Age 62 years)
Beatrice Ida Henderson, b. 22 Feb 1901, Guilford d. 7 Jun 1973  (Age 72 years). Buried: West Guilford Cemetery
Children:
1. Mary Laura Barry, b. 1918, Guilford, d. 2004 (Age 86 years)
2. Stella Gertrude Barry, b. Abt 1919, West Guilford, d. 29 Jun 2013 (Age ~ 94 years)
? Earle Barry, b./d. 22 Jun 1927, West Guilford. COD: Still born. Buried: Maple lake
3. Living
4. Living
5. Living
6. Living
7. Barbara Eileen Barry, b. 29 Dec 1935, Ontario, d. 3 Jan 1990, Ontario, (Age 54 years)
8. Living
Photo: Picnic at Hall's Lake around 1910. Source: Haliburton Echo, April 25, 1974