Settler of township lot: East half of Lot 21, Conc.12, Minden (Stanhope area)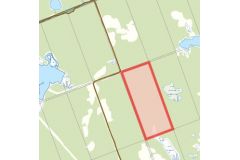 Location: Map point is the approximate location on the east half of this 100 acre lot east of Voicey Road.
Land acquisition: 1908 Margaret King (his second wife) - East half from John J Cryderman for $250.00. Ontario Land Parcel Register Index  - Minden, Conc. 12 & 13 (Image 130).
Dates of residency:
1911 Census of Canada, Minden Lot 21, Conc. 12: Richard & Margaret King with children Blanche, Florence and Cecil
1922 Death at Lot 27, Conc. 7, Stanhope home of James Barry (father-in-law of daughter Blanche) where he had lived for 18 months
Interesting facts:

Richard & Margaret King were Mennonites of Dutch descent. They appear to have moved to the area from North Gwillumbury in 1908 upon buying land from Margaret's brother John Joseph Cryderman. Whereas he had described himself in 1907 on his son's birth registration as a labourer in North Gwillimbury, he was now a farmer on the 1911 census.
Margaret sold the 50 acres to Peter Frederick Dawson in 1918 for $140, perhaps because her husband Richard could no longer manage the farm.
Preceding landowner:
1889 John Howell from The Crown
1896 John T Mason North half; 1898 Thomas Bick South half
1905 Alexander Little North half; 1905 John H Cryderman South half
Succeeding landowner:
1918 Peter Frederick Dawson, all 100 acres
1922 Lottie Hawkins
Link to Settlers of Algonquin Highlands family tree
Richard Willard King, b. 14 Aug 1850, Napanee d. 19 Jun 1922  Haliburton (Age 71 years). COD: Cerebral haemorhage. Buried: Maple Lake Cemetery
Family 1: Elizabeth Cryderman b. 1856, North Gwillimbury, York, Ontario d. 1888 York, Ontario
They had 5 children in York
Family 2: Margaret Cryderman b. 26 Feb 1870, East Gwillimbury, York
The had 5 children including:
Blanche Zelda King, b. 15 Sep 1897, Keswick, d. 20 Dec 1957, Maple Lake, (Age 60 years). Married George Edgar Barry. Buried: Maple Lake Cemetery
Photo: Richard King Family. Source: Ancestry. ca kathk74 originally shared this on 14 Jun 2016