Settler of township lots: Lot 11, Conc. 6, Guilford (Stanhope area)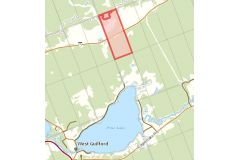 Location: Map point is the approximate location within this 98 acre lot divided by Kennisis Lake Road north of Pine Lake.
Land acquisition: 1903 from The C .L. & E. Co., Ontario Land  Parcel Register - Guilford (Image 91)
Other land:
Lot 10, Conc. 6, Guilford -1919 from John Henry Bird (his stepfather) for $1; 1962 to Murray Barry. Ontario Land Parcel Register - Guilford (Image 85).
Lot 10, Conc. 7, Guilford - 1935 from Dysart Land Co Ltd. Ontario Land Parcel Register - Guilford (Image 48).
Interesting facts:
Richard Thomas Scott is mentioned in the book "In Quest of Yesterday" by Nila Reynolds. Published by The Provisional County of Haliburton, Minden, Ontario 1973 pg. 157
"S.S. No. 2 and 3 Guilford, voluntarily built by the settlers in the early 1880's. The late Thomas Scott remembered how one teacher was transported from Guilford to Haliburton when heavy winter storms made the roads impassable at Christmas. Several men on snow shoes pulled the teacher and her baggage on a sleigh, and thanks to their efforts, she caught the train for home."
Obituary of Richard Thomas Scott (see the original on our Family Tree website):
"Richard Thomas Scott, pioneer of Haliburton, passed away on Sunday, January 31st, 1965 in his 93rd year. Mr. Scott was born in Alliston and at the early age of five years, he moved to Harcourt where he lived for some five years, after which he moved to West Guilford, where he made his home for his remaining years with the exception of a few years he lived in Wanapitei. He was the son of the late James Scott and the former Hannah Craig. Two full brothers, William John and Archie and a sister Janet predeceased him. He is survived by one son, xxnman Fulton of Timiskaming, Quebec to a first marriage with the former Rebecca Everson who predeceased him on May 9th, 1901; also one daughter, Leata (Mrs. Harry Sisson) of Birdtail, Manitoba to a second marriage with the former Mary Deacon who predeceased him in 1906. He is survived by three sons and two daughters to a third marriage with the former Clara Packard, who predeceased him on January 23rd, 1963. They are John of Searchmont, Evelyn (Mrs. Wes Stata) and Ben of Oshawa, Selina (Mrs. E. Adams) and Archie of West Guilford, and also twenty grandchildren and a number of great grandchildren. He is also survived by three half sisters, Francis Sisson and Jane Cooper of West Guilford, and Sarah Ann Parish of Haliburton; three half brothers, James, Benjamin and Archie Bird. Also one half sister predeceased him...."
Dates of residency:
1903 Business Directory, Guilford: T. Scott, Maple Lake, Lot 11, Conc. 6
1911 Census of Canada, Guilford: Thomas & Mary Scott, Lot 11, Conc. 6
Preceding landowner: 1865 The Crown to The C .L. & E. Co
Succeeding landowners:
1912 John A Cooper for $300
1945 Herkles Barry