Settler of township lots: Lot 3, Conc. 4, Guilford (Stanhope area)
Location: Map point is the approximate location within this irregular, 79 acre waterfront lot on the south shore of Green Lake. (Abbey Gardens)
Land acquisition: 1882 Richard Sisson from The C. L. & C. Co for $90. Ontario Land Parcel Register - Guilford (Image 23)
Dates of residency:
1873 Birth of Son Luke Sisson (1873–1908) West Guilford
1908 Death of Son Luke Sisson at Lot 4, Conc. 3, Guilford
1911 Census of Canada, Guilford: Hattie (Harriet Fidelia Barnum) Sisson widow of Luke Sisson, was enumerated as head at this lot with mother-in-law Annie (b. 1849) and 4 children.
Interesting facts: 
Listed as Richard 'Deaf' Dickie Sisson in Ancestry.ca
Harriet Fidelia Barnum 1877-1949) was the daughter of Nelson Barnum. Her first husband was Luke Sisson (1873-1908). She married her second husband Samuel Thomas Sims (1874) in 1934.
One of the first residents to settle near West Guilford according to the tax rolls was Richard Sisson, the ancestor of the Sissons still living in the immediate area, who in 1874 left Cavan township with his wife Anne and their 3 children to take upland on lot 3, conc. 4, beside Grass Lake. Anne was a daughter of Thomas Sisson and Hannah Wilkinson, who had met on the sailing vessel which brought Tom and his 5 brothers to Canada from Westmoreland in northern England. Both families settled in Cavan following their marriage and the growth of their 7 children, they were attracted by land in Haliburton County. Source: In Quest of Yesterday by Nila Reynolds. Published by The Provisional County of Haliburton, Minden, Ontario 1973 pg. 152
Preceding landowner: 1865 The Crown to The C. L. & C. Co 
Succeeding landowner:
1901 Ann Sisson, widow of Richard Sisson, and heirs including Hattie. Ontario Land Parcel Register - Guilford (Image 23).
1924 Hattie Sisson, widow, etc to Harry Rexord Boice
Link to Settlers of Algonquin Highlands family tree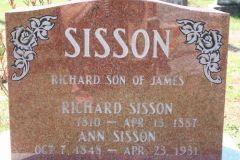 Richard Sisson, b. 30 Jun 1810, England d. 13 Apr 1887, Durham, Ontario, (Age 76 years). Occupation: Labourer. COD: Cystitsis for about 2 years. Buried: St. Peter's Church Cemetery
Parents:
• James Sisson, b. 1786, England d. 31 Aug 1847, Durham, Ontario, (Age 61 years)
• Dorothy Baines, b. 1781, England d. 07 Apr 1865, Durham, Ontario, (Age 84 years)
Ann Sisson, b. 07 Oct 1848, Durham, Ontario, d. 1931, West Guilford, (Age 82 years). COD: Bed sore, senility. Buried: St. Peter's Cemetery
Parents:
• Thomas Sisson, b. 13 Mar 1821, England d. 9 Nov 1907, Guilford,  (Age 86 years)
• Jane Wilkinson, b. 12 Apr 1819, England d. 12 Jan 1891, Cavan, (Age 71 years)
Children:
1. Teresa Sisson, b. 29 Aug 1869, Durham, Ontario,  d. 18 Feb 1941, Maple Lake, (Age 71 years)
2. Charlotte Sisson, b. 1870, Canada
3. Phillip Sisson, b. 30 Apr 1871, Durham, Ontario, d. 30 May 1951 (Age 80 years)
4. Luke Sisson, b. 25 Apr 1873, Stanhope, d. 22 Apr 1908, Dysart, (Age 34 years)
    Wife: Harriet Fidelia Barnum, b. 14 Jul 1877, Minden, d. 1949, Ontario, (Age 71 years)
5. Mark Sisson, b. 12 Jun 1875, Dysart, d. 28 Jan 1942, Haliburton, (Age 66 years)
Photo 1: Richard and Ann Sisson. Stanhope Museum Collection 13.02.001. Owner/Source Stanhope Museum. File name richardannsisson01302001.jpg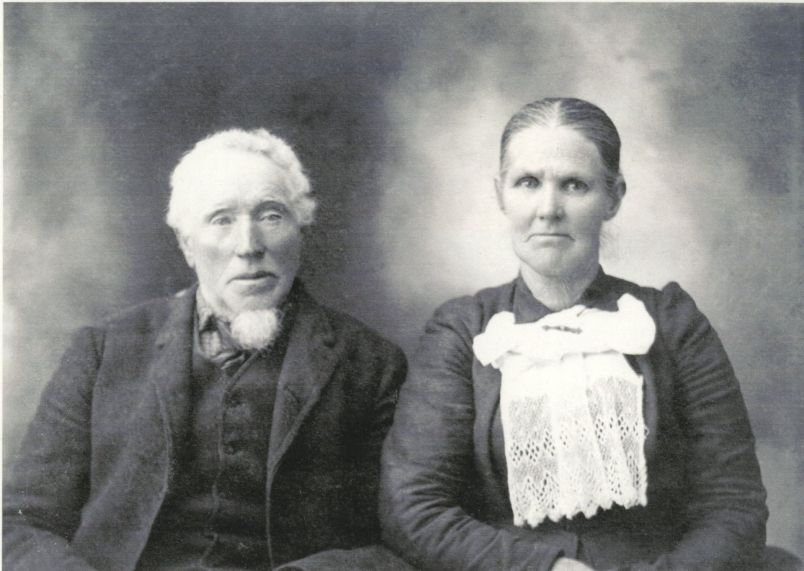 Photo 2: Photo: 'sisson gramma' Teresa (Sisson) McBrien & her mother, Ann Sisson. Source: Ancestry.ca. jwgray49 originally shared this on 03 jul 2010