Settler of township lots: Lot 4, Conc. 4, Guilford (Stanhope area)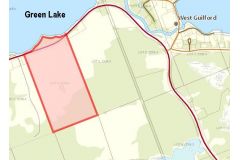 Location: Map point is the approximate location with this 76 acre lot the south shore of Green Lake. (Current Earl Cooper residence)
Land acquisition: 1882 from The C. L. & C. Co for $76. Ontario Land Parcel Register - Guilford (Image 34).
Dates of residency:
1881 Census of Canada, Stanhope: farmer living with nephew Richard Dawson
1891 Census of Canada, Stanhope
1892 Death: Maple Lake
Interesting facts: 
The years before 1885 saw a steady influx of homesteaders to West Guilford. Included were Richard Benson. Source: In Quest of Yesterday by Nila Reynolds. Published by The Provisional County of Haliburton, Minden, Ontario 1973 pg.154
Richard Benson's sister was Jane Benson (1815-1892) who married Peter Dawson (1801-1873) and is buried with them.
Preceding landowner: 1865 The C. L. & C. Co from The Crown
Succeeding landowner:
19? Charlotte Amelia Cooper (widow of Samuel George Cooper)
1931 Norman Linton part
1943 Stanley Cooper part (son of Samuel George Cooper)
Link to Settlers of Algonquin Highlands family tree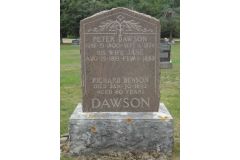 Richard Benson, b. Abt 1812, England d. 30 Jan 1892, Maple Lake, Stanhope, (Age ~ 80 years) COD: La Grippe (Influenza). Buried: St. Peter's Cemetery
Parents:
• Thomas Benson, b. 06 Jun 1774, England d. 06 Oct 1864, Cavan, (Age 88 years)
• Margaret (Peggy) Sisson, b. 1775, England d. 28 Jan 1870, Cavan, (Age 95 years)