Settler of township lots: Lot 5 Conc. 2, Stanhope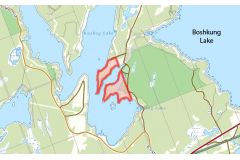 Location: Map point is the approximate location within this irregular, waterfront parcel on Kushog Lake (Jones Road & Wooden Bridge Road).
Land acquisition: No record of ownership
The Peter Stevens family may have been squatters on this lot, because the Ontario Land Register has a blank first line, second line shows Daniel Buck transferring 22 acres to William H. Stevens in 1871 - Ontario Land Parcel Register - Stanhope (Image 51)
William H Stevens is the son of Robert Gourley Stevens who is listed at Lot 2, Conc. 2 on the 1891 Census.  Another son of Robert Gourley Stevens is George W. Stevens who is listed at Lot 3, Conc. 2 on that census. . No family relationship has been found between Peter Stevens and Robert Gourley Stevens.
Dates of residency:
1861 Census: Peter Stevens was a farmer and was enumerated at this lot living in a log house. There were two families in the house - he and his wife and three children, plus his in-laws, a family of six. His father-in-law James Durick was a school teacher. Peter Stevens is enumerated as "Mulatto" on the 1861 census.
1881 Census - Peter Stevens has moved away from Stanhope and is now a widowed "African" farmer recorded as living alone in the enumeration district  of Franklin & Sinclair in Muskoka.
Other residents: 1901 Stanhope Voters List: Nicholas Harrison, farmer
Interesting facts:
Preceding landowner:
Succeeding landowner:
xxxx Daniel Buck
1871 William H. Stevens 22 acres
1940 Subdivision