Settler of township lots: Lot 28, Conc. 1, Stanhope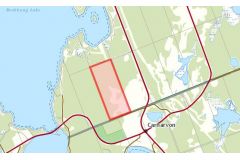 Location: Map point is the approximate location on Lot 28, Conc. 1 which is between 25th Line Road and 30th Line Road running north from Tulip Road
Land acquisition: No record of ownership
This lot was patented on November 27, 1875 (Township of Stanhope Patent Register, Stanhope Museum website } but the Ontario Land Parcel Register - Stanhope (Image 267) lists Dunn Gibbs as receiving the patent some illegible date before 1915 when it was sold to Charles E. Packard.
Dates of residency:
1871Census of Canada, Stanhope, Peterborough North, Ontario; Roll: C-9988; Page: 1; Family No: 2
1881 Census of Canada, Stanhope: This settler was enumerated at this lot but the rest of his family, under head James Begg, were enumerated at Lots 29 & 30, Conc. 1.
1883: James & Peter Begg were among the settlers  who called for mail in Carnarvon. In Quest of Yesterday. pg. 317
1883 Stanhope Voters List: Peter Begg, owner, Lot 28, Conc. 1
By 1892, he, his parents and siblings had moved to Thurston County, Washington, USA.
Interesting facts: 
Preceding landowner: The Crown
Succeeding landowner:
Link to Settlers of Algonquin Highlands family tree
Peter S Begg, b. 28 Feb 1857, Cold Springs, Hmilton Twp, Ontario d. 20 May 1911, Lewis, Washington, USA
Parents:
• James Alexander Begg, b. Abt 1824, Scotland  d. 14 Mar 1910, USA (Age ~ 86 years)
• Ann Sidey, b. 09 Mar 1833, Scotland d. 31 OCt 1906, Washington USA
Lilyian V Sawtell  b. 1875, Kansas, USA d. unknown