Settler of township lots: Lot 21, Conc. 6, Stanhope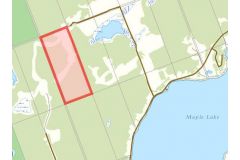 Location:  Map point is the approximate location within this 100 acre lot at the west end of Dawson Road.
Land acquisition: 1936 Patent from The Crown for 100 acres. Ontario Land Parcel Register - Stanhope (Image 109).
Dates of residency: Percil McPhail is Hugh Alfred McPhail's son
1928 Stanhope Voters List
Other residents: 1881 Census of Canada: Duncan McPhail b. 1857, (Hugh Alfred McPhail's son) farmer is listed at this lot
Other locations:
Lot 20, Conc. 5:
- 1881 Census of Canada: Percy McPhail was enumerated as son of Hugh Alfred McPhail
- 1918 Stanhope Post Office List: Percy McPhail, Maple Lake
Interesting facts: aka Percy McPhail (see tombstone)
Preceding landowner: This property also has a map point for Charles Damion.
Succeeding landowner:
1937 John Alexander Morrison
1993 Cecil Morrison
Link to Settlers of Algonquin Highlands family tree
Percil McPhail, b. 6 Feb 1891, Stanhope
Parents:
• Hugh Alfred McPhail, b. 27 Jul 1868, Northumberland, Ontario, d. 26 Oct 1943, Stanhope, (Age 75 years)
• Henrietta Archer, b. 27 Feb 1871, Fenelon Falls, d. 15 Oct 1905, Stanhope, (Age 34 year
Reata Maude Carr, b. 24 Apr 1908, Reach, Ontario, d. 8 Dec 1998  (Age 90 years)