Settler of township lots: Lot 8, Conc. 9, Stanhope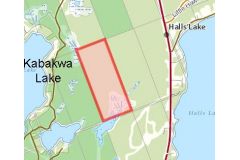 Location: Map point is the approximate location within this 100 acre lot 2 lots west of Halls Lake east of Shangri La Road.
Land acquisition: 1955 from Thomas Jones to Maurice B Windsor & Ross J Harrison carrying on business in partnership as Carnarvon Lumber Limited. Ontario Land Parcel Register - Stanhope (Image 8)
Dates of residency: He did not live on this lot.
1945 Victoria County Voters List: merchant, Carnarvon Lumber
1972 Stanhope Voters List: Maurice Windsor, retired, Carnarvon
Interesting facts:
M. B. Windsor and Gordon Allcorn (see photo below) were partners in the Carnarvon store known as Rogers Store (Lot 18, Conc. 13, Stanhope).  Their partnership ended in 1947, but Allcorn continued in the business until 1964 when he sold to Syd Barnes. Source: In Quest of Yesterday by Nila Reynolds. Published by The Provisional County of Haliburton, Minden, Ontario 1973 pg. 317
Carnarvon Post Office - 1882 to 1897: Lot 19,  Conc. 2, Stanhope Township.  9845 Hwy 11. Date range: Nov 1, 1882 to Feb 6, 1897. Post Mistress: Mrs. Christina Blanche Windsor - Nov 11, 1943 to Oct 10, 1949
First landowner: 1879 James Welch
Succeeding landowner: 1961 Carnarvon Lumber Limited
Link to Settlers of Algonquin Highlands family tree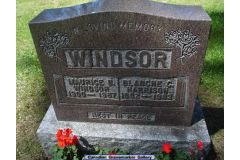 Maurice Benson Windsor, b. 15 Jul 1900, Sidney, Hastings, Ontario,  d. 15 Nov 1987  (Age 87 years). Buried: Twelve Mile Lake Cemetery
Christena Blanche Harrison, b. 19 Jan 1902, Stanhope,  d. 12 Dec 1983, Hillsborough, Florida, (Age 81 years) Buried: Twelve Mile Lake Cemetery
Parents:
• William Henry Harrison, b. 11 Feb 1866, Bayfield, Huron, Ontario, d. 09 Sep 1942  (Age 76 years)
• Margaret Matilda Warner, b. 20 Sep 1872, Perth, Lanark, Ontario, d. 10 Sep 1959  (Age 86 years)
Photo: Gordon Allcorn and Gracy McKay. Source: Carol Moffatt's photo collection