Settler of township lots: Lot 27, Conc. 10, Stanhope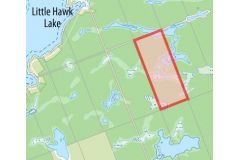 Location: Map point is the approximate location within this 101 acre lot in the middle of nowhere east of Little Hawk Lake.
Land acquisition: 1876 Lands Liable to Taxation: Township of Stanhope Patent Register -101 acres to Martin Kratt BUT there is No Patent or page for this land in the Ontario Land Parcel Register - Stanhope.
Dates of residency: 
Interesting facts:
One after another, families abandoned the struggle at Third and Forth Lakes [Cameron Lake Settlement Area] and moved away including Martin Krautt. Source: In Quest of Yesterday by Nila Reynolds. Published by The Provisional County of Haliburton, Minden, Ontario 1973 pgs. 320 & 321.
Preceding landowner: The Crown.
Succeeding landowner:
Link to Settlers of Algonquin Highlands family tree Not listed