Settler of township lots: Lot 22, Conc. A, Minden (Stanhope area)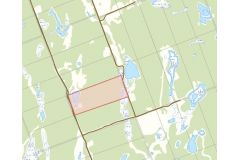 Location: Map point is the approximate location within this 100 acre lot between Queens Line Road and Bobcaygeon Road north of Plantation Road.
Land acquisition: 1937 from William Jarvis. Ontario Land Parcel Register Index - Minden Conc. A. (Image 372).
Dates of residency:
1891 Census of Canada, Edwardsburgh, South Grenville, Ontario
1901 Census of Canada, Minden
1911 Census of Canada, MInden: Lot 22, Conc. A
Interesting facts:
Preceding landowner:
Illegible
1877 William Jarvis
Succeeding landowner:
1942 Stephen Thomas Harrison, his son
Link to Settlers of Algonquin Highlands family tree
Levinous James Harrison, b. 29 May 1854, England d. 8 Dec 1939, Ontario Hospital Whitby, (Age 85 years) Buried: Kinmount
Father: James Harrison
Mary Ann Hemmert, b. 18 Mar 1865, Germany
Children:
1. William Harrison, b. 2 May 1881, USA
2. Emma Harrison, b. 16 May 1883, Ontario
3. Victor Harrison, b. 14 Apr 1886, Ontario
4. Grover Harrison, b. 31 Dec 1888, Ontario
5. Joseph Harrison, b. 19 Jul 1891, Ontario
6. Benjamin Harrison  b. 26 Jun 1893, Cardinal, Leeds, Ontario, d. 07 Feb 1976 (Age 82 years)
7. Edward Harrison, b. 12 May 1896, Ontario
8. Stephen Thomas Harrison, b. 10 Sep 1898, Ontario
10. Lawrence Harrison, b. Oct 1904, Ontario