Settler of township lots: Lots 8, Conc. 4 & 5, Stanhope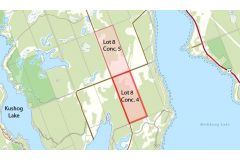 Location: Map point is the approximate location within this 100 acre lot on the east side of Buckslide Road north of Boshkung Lake Road
Land acquisition: 1901 from his father, Joseph Beatty. Ontario Land Parcel Register - Stanhope (Image 66).
Other land: Lot 8, Conc. 4, Stanhope - 1901 from his father, Joseph Beatty. Ontario Land Parcel Register - Stanhope (Image 90).
Dates of residency:
1901 Stanhope Voters List: Lot 8, Conc. 5
1903 Business Directory, Stanhope: Joseph Beatty, Sr, Boskung
1903 Stanhope Voters List: Joseph T Beatty, farmer, Lot 8, Conc. 4
1911 Census of Canada, Stanhope: Joseph & Annie J Beatty, no children, with Eva Lindsay, boarder.
1911 Stanhope Voters List: Joseph Beatty was listed at Lot 8, Conc. 4 & 5.
1911 & 1918  Stanhope Post Office List: Joseph Beatty, Boskung is listed at Lot 8, Conc. 4
1928 Stanhope Voters List: J T Beatty is listed as laborer, but stroked off for 1929.
Interesting facts: 
Boskung Post Office - 1878 to 1962:  The post office at Boskung was located in the homes of the Postmasters.  From 1878 until 1958 the office was open year around. It then became summer only until it finally closed in 1964. Joseph Beatty Jr. was the postmaster from Feb 9, 1908 to Mar 19, 1924.
The Beatty farmhouse (for some time a post office in later days) still exists, well-renovated to suite changing times, at the top of the rise. Source: Stanhope 125th Anniversary 1866-1991, supplement to The Times, Minden, 1991 (written by Carol Moffatt).
The Haliburton Business Directory for 1918:
Boskung, Stanhope Tp - Beatty, Jos T. postmaster
From his father's obituary, published in the Lindsay Weekly Free Press 31 Dec 1908:
     On Saturday evening Dec 19, 1908 there passed away at the family residence, Boskung, one of the oldest and most respected citizens of the township of Stanhope, in the person of Mr. Joseph Beatty. He was born in Tyrone, Ireland, seventy-six years ago. While yet a young man he emigrated to Canada, and lived in the vicinity of Millbrook for a few years. Forty-seven years ago he became a resident of Stanhope and has lived on the same farm till the time of his death.
    From the time Boskung post office was  opened till the time of his death he was the postmaster, and for nearly a quarter of a century carried the mails to and from Minden.
     He was the trusted township treasurer of Stanhope municipality till his broken health rendered him incapable, when the work was handed over to his son, some four or five years ago. In religion he was a faithful member of the English church and in politics a Conservative. The principals of Protestantism were strongly protected and advocated by him and it appeared as a natural consequence tht he should be a member of the Orange Association.
     He is survived by a sorrowing widow, two son, and three daughters. The sons are Alexander, of Penticton, B.C. and Joseph at home. The daughters, Mrs. Wm. Taylor of Beech Lake, Mrs. R.H. Dawson of Maple Lake, Stanhope, and Mrs. Walter Wright of Minden.
    The funeral took place to the Minden cemetery on Monday as was presided over by Rev. J. E. Fenning, of Markham, who was in Minden for the Sunday services.
Preceding landowner: 1905 Joseph Beatty (father)
Succeeding landowner: 1925 Angus Coulter
Link to Settlers of Algonquin Highlands family tree
Joseph Thompson Beatty  b. 26 May 1879, Stanhope, d. 26 May 1956, Stanhope, (Age 77 years). Buried: St Peter's Anglican Cemetery
Parents:
• Joseph Beatty, b. 1829,  Northern Ireland  d. 19 Dec 1908, Stanhope, (Age 79 years) 
• Ann Jane Morton, b. 29 May 1839, Manvers, Durham, Ontario,  d. 21 May 1927, Minden, (Age 87 years)
Rachel Ferguson, b. 29 Jun 1891, Stanhope, d. 11 Feb 1924, Ontario, (Age 32 years)
Children:
1. Beryl Olive Beatty, b. 5 Mar 1916, Ontario, d. 16 Nov 1933, Stanhope, (Age 17 years) COD: Automobile accident; accidental mechanical suffocation. Buried: Maple Lake Cemetery
2. Thelma Marie Beatty, b. 10 Jun 1919, Ontario, d. 7 Feb 1936, Maple Lake, (Age 16 years). Cause of death: Bronchial pneumonia from encephalitis lethargica. Buried: Maple Lake Cemetery.
3. Marjorie J Beatty, b. 03 Feb 1921, Ontario, d. Aug 1982, (Age 61 years)