Settler of township lots: Lot 20, Conc. 10, Minden (Stanhope area)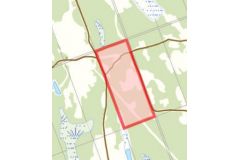 Location: Map point is the approximate location within this 100 acre lot on the east side of Duck Lake Road at Soyers Lake Road
Land acquisition: 1917 from William Blair. Ontario Land Parcel Register - Minden (Image 162).
Dates of residency:
1893 Minden Township Directory: Joseph & Wm, Blairhampton
- father Joseph Blair (1870-1950) and brother William Everett Blair (1891-1953) both born in Blairhampton
1911 Census of Canada - Peter Hughes & Belinda Blair.
1921 Census of Canada, Minden
1925 Birth of Son Wren Alvin Blair (1925–2013) Lindsay
Interesting facts: Son Wren Blair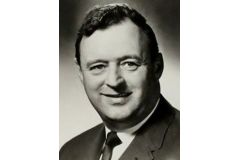 Professional Hockey Coach, Executive. The Ontario native initially made a name for himself in the sport as a coach and general manager of the Whitby Dunlops of the Ontario Hockey Association. He guided his teams to two Allan Cups (1957 and 1959) and a gold medal at the Ice Hockey World Championships in 1958. During the early 1960s while serving as a scout with the Boston Bruins, Blair discovered Bobby Orr a then-fourteen year old and signed him to a contract with the Oshawa Generals. Orr went onto have a Hall of Fame career with Boston and is regarded by many as one of the greatest hockey players of all time. Blair's reputation as a talent evaluator earned him the distinction of being the first general manager (1967 to 1974) and coach of the Minnesota North Stars for parts or three seasons (1967 to 1970) whom entered the National Hockey League in 1967. The excitement of the new franchise was short-lived as tragedy struck when the north Stars' Bill Masterton died from head injuries he suffered after a fall on the ice during a game on January 13th, 1968. In spite of this and a 27 win, 32 loss and 15 tie record, Minnesota clinched their first playoff berth. They would reach the semi-finals for which resulted in a series loss to the St. Louis Blues. Blair would move onto serve as president and general manager of the Pittsburgh Penguins from 1975 to 1977. He served as proprietor of the Kingston Frontenacs from 1989 to 2000. He was inducted into the Whitby Sports Hall of Fame in 1998.
Preceding landowner: 1868 William Blair from The Crown
Succeeding landowner:
1921 John Cowen
1942 Lawrence McKnight
Link to Settlers of Algonquin Highlands family tree
Joseph Alvin Blair, b. 28 Dec 1897, Blairhampton, Minden
Audrey Viola Cook, b. 21 Nov 1901, Minden
Parents:
• Holden Cook
• Elizabeth Annie McKnight, b. Abt 1881, Ontario
Children:
1. Wren Alvin Blair, b. 1925, Lindsay. d. 2013 Oshawa. Buried: Twelve Mile Lake Cemetery