Settler of township lots: Lot 1, Conc. 11, Minden (Stanhope area)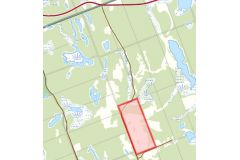 Location: Map point is the approximate location within this 100 acre lot on the east side of Queens Line Road running north from Swan Road
Land acquisition: 1900 from Alexander Prentice. Ontario Land Parcel Register - Minden (Image 245).
Other land: 1898 Lot 25, Conc. A, Stanhope from Charles Richardson; ? to William Prentice. Ontario Land Parcel Register - Minden (Image 383)
Dates of residency: 
1880 Birth of Daughter Jessie Cecelia Prentice (1880–1970) Minden
1883 Death of newborn Son Andrew Lindsay Prentice (1865–1883) Minden.COD: Cerebes Spinal Meningitis
1893 Minden Township Directory: John Prentice, Minden
1909 Death: Lot 23, Conc. A, Minden
Interesting facts: 
1856 Boarded a ship to Canada on their Wedding day. Trip paid for by Squire Calder and John was to work for him for a while. Indentured? Source: Ancestry.ca
From JOHN PRENTICE HISTORY
John Prentice was born at Crawford Walls, Scotland, in 1836. He received a fair education; he gained practical knowledge along the line of agriculture by helping in the nursery and green-house which his parents owned and operated successfully; and he also worked at and learned the stone mason trade.
     In 1856, he married Miss Christina McColl, who was born in Lanarkshire, Scotland in 1836. Immediately after their marriage, they came on a sailing vessel to Canada and settled at Carluke, in the township of Ancaster, near Hamilton.
     In 1873, they moved to Alberton, where they conducted a general store and kept the Post Office, until 1878. In that year, they moved to Haliburton County.
     By then, their family was composed of two girls and eight boys. The youngest member of their family of eleven was born after they came to Minden Township.
     Mr. Prentice and two of his sons drove from Alberton to Haliburton County with a team and wagon, bringing with them a load of furnishings necessary for the establishing of a home. Later in the season, Mrs. Prentice and the other members of the family came by train to Coboconk. There they were met and taken by team and wagon, north from Minden to a place on the West Peterson Road, where Mr. Prentice and his two sons had converted an abandoned lumber camp into a home for the family. Here in the woods in Hindon Township, the family lived for more than a year and gained a fund of new experience. They retained ownership of the "old Hindon place" for many years.
     Finally, they bought and moved to a farm on the Bobcaygeon Road, in Minden Township. This new location had more advantages as it was on the road used by the people who had settled farther north in the county; it was nearer to Minden and was in a neighborhood. A Sunday School was soon organized with the Prentice home as its meeting place and Mr. Prentice as Superintendent-teacher. Church services were also held in the Prentice home, until by the co-operative efforts of the neighbors, a comfortable log building was built, on the Anson side of the Bobcaygeon Road, and used as a church. The Methodist minister and Presbyterian minister came from Minden and preached on alternate Sundays until the church became part of the Stanhope Mission of the Methodist Church.
     Mr. Prentice farmed and worked at his trade as stone mason. Some of his work is the vault, in the building on Main Street in Minden, now owned by IMr. J. Lorne Dawson. The vault was built for the late Dr. Curry. The building now occupied by the "5¢ to $1.00· store is also some of his work. It was built for the late Mr. :Edward Noice to replace a building that burned in Minden's fire of 1890.
     While Mr. and Mrs. Prentice were not among the first settlers of Haliburton County, they may well be named among the pioneers. On March 23rd, 1906, they celebrated their Golden Wedding. The following is an extract taken from an address, signed by the forty guests. and presented to them on that occasion.
     "Mr. and Mrs. Prentice: When you came to the country, it was for the most part, virgin forest accessible only in winter, the haunt of the deer, the bear, and howling wolves. You have seen the forest disappear year by year, the land cleared for cultivation; and the forest wealth, given to the people by a bountiful and all-wise Creator go down our streams, rivers and lakes to the great centres of trade and commerce of the country. Instead of the rude shanty, erected to shelter the settler and his family, we now have for the most part, fine commodious dwellings; with the comforts of life and many of the luxuries as well. Instead of the log houses and log barns of former days, we now have, in many places fine houses and good bank-barns, commodious enough to hold the entire crop for the year and furnish shelter for the farmer's herds and flocks. Not a few of these you and your sons have built, while your own ample stables stand as a constant invitation to your many friends who pass up and down this road.
     Their modest but well-furnished home is known to every resident of this rough country. More than one generation of travellers have taken shelter under your hospitable roof and have been fed from Mrs. Prentice's ample store of provisions, always kept in readiness for the hungry and way-worn traveller making his way over the awful hills, lakes and valleys of this interminable wilderness to the North, known as the Bobcaygeon Road.
     In a public capacity, you have been willing supporters of the school and church in this neighborhood, while your home has been the regular stopping place for the minister and teacher.
     Mr. Prentice has borne his share of the Township burdens for a score of years, until failing health obliged him to give up his place at the Council board, so long and honorably held."
     Mr Prentice died in 1909; and Mrs. Prentice died in 1912. The youngest member of their family, and only member now living, is Mrs. James Parker (Jessie) of Markham, Ontario. Their grandchildren, who have interests in Haliburton County, are Stuart Prentice (son of the late Sandy Prentice) whose summer home is at Ingoldsby.
Preceding landowner:
1884 Joseph McNeil from The Crown
1884 Edward Noice
1893 Alexander Prentice
Succeeding landowner:
1902 Thomas C Prentice
1920 Walter McKelvey
1949 Willfred Ackerblade
Link to Settlers of Algonquin Highlands family tree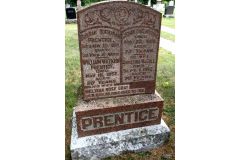 John Prentice b. Nov 1835, Scotland d. 23 Apr 1909, Minden. Occupation: Stone mason. COD: Apoplexy Buried: Minden Cemetery
Christine McColl b. 22 Sep 1836, Scotland d. 1 Sep 1912, Minden. COD: Senility/Myocaiditis
Children: They had 11 children from 1857-1880
4. John Lindsay Prentice b. 23 July 1863, Ancaster Twp d. 29 Jun 1944, Willowdale
9. Thomas Calder Prentice, b. 06 Apr 1874, Ancaster, d. 23 Dec 1953 ,MInden (Age 79 years)
10. Duncan Buchanan Prentice, b. 15 Nov 1877, Ancaster, d. 29 May 1909, Minden, (Age 31 years) 
Photo 1: John Prentice children 1936,Haliburton. Group picture of some of John and Christine's children. Source: Ancestry.ca Barbara Moore originally shared this on 24 Oct 2016