Settler of township lot: Lot 1, Conc. A, Stanhope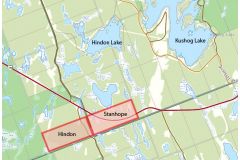 Location: Map point is the approximate location on Hwy 118 east of Bobcaygeon Road, south of Little Hindon Lake.
Land acquisition: 1901 from the Municipality of Stanhope or $25. Ontario Land Parcel Register - Stanhope (Image 3).
Other properties:
Lot 1, Conc. 1 (part): 1925 from Donald A. Ross (son-in-law). Ontario Land Parcel Register - Stanhope (Image 2).
Lot 2, Conc. 1 (part): 1922 from Donald A. Ross B&S for $550. Ontario Land Parcel Register - Stanhope (Image 11).
Dates of residency: 
1891 Census of Canada: farmer in Galway township, Peterborough
1893 Anson & Hindon Townships Directory: John Rivers, Minden
1901 Census of Canada, Stanhope: John M & Mary Rivers with 5 children
1901 1911 Stanhope Voters List
1903 Stanhope Voters List: John Rivers, farmer, Lot 1, Conc. A
1907 Lot 16, Conc. A, Stanhope
1908 Lot 7, Conc. 1, Stanhope and Lot 8, Conc. 1, Stanhope
1908 Birth of twins Rebecca and Cecil Ray (Cecil only lived 17 days) at Lot 7, Conc. 1, Stanhope
1911 Stanhope Post Office List: J Rivers Petersons Cors
1911 Stanhope Voters List
1911 Census of Canada, Stanhope: John M & Mary Rivers with 10 children, Louise Rivers, step daughter and James Rivers, step son
1911 - 1912 : Lot 1, Conc. A, Stanhope
1928 Stanhope Voters List: James (son?) & Mary Rivers; James is crossed off.
Other occupants: Henry Pearl is listed as tenant on the 1891 Stanhope Township Voters List.
Interesting facts:
This is a blended family - both John Michael Rivers and his wife Mary Jane Toye were previously married, he to Louisa Cain, she to James Wesley Stockton.
Note that there was another John Rivers in the county, but he was enumerated at Lot 5, Conc. 5, Anson township in 1911.
Peterson's Corners Post Office - 1878 to 1931: The post office was located at the home of the current Postmaster, which was at most one mile from the junction of the Bobcaygeon and Peterson Roads. Mrs. Mary Rivers was the postmistress from Jun 1, 1914 to Jan 18, 1928 at  Lot 1, Conc. A, Stanhope. She was the mother-in-law of Donald Ross and the mother of James Stanley Rivers.
The Haliburton Business Directory for 1918: Source: Ancestry.ca 
Peterson's Corners, Stanhope Tp - Rivers, Mrs. Mary, postmistress
My mother, Mary Toye, by Minnie Eastman 1977: Source: Ancestry.ca shelleys63
Mr. and Mrs. James Toye immigrated to Canada from County Antrim, Ireland to Bell's Corner near Ottawa in 1871. There, a daughter was born named Mary in 1872. They came and settled at Hindon Hill on the farm where their son William farmed for a number of years. Mary was 16 months when they came to Hindon Hill. They had 5 children, one passed away when a baby. Mary, Letisha, William and Johnstone were the family names. May married John Rivers and had 12 children; Mary was postmistress at Peterson's Corners for 15 years but gave it up to move to Gelert where they farmed for more than 15 years. Letisha married George Piper and had 5 children and lived in Sault Ste Marie. William m Jennie Sawyer and had a family of 13; 10 girls and 3 boys and they moved to Chartton, New Ontario in 1926 and farmed there until his retirement. Mrs. James Toy went with him, as did his brother Johnstone. Mrs. James Toy died at the age of 32. She was not accustomed to a rugged life that the pioneers had to endure in the early days of this new county. Johnstone was a bachelor. Mr. James Toye married Janie Johnstone from County Antrim, Ireland. Henry Johnston, brother of Janie Toye was PersonalPhotographer to the Royal Family in England for a number of years before coming to Canada.
My mother, Mrs. Rivers's school teacher's name was Miss Jennie Prentice, sister of William and Thom Prentice. My mother spoke very highly of her, she was so good to her; taught her to sew and cook as well as her other school duties. Mother was very clever, she could do anything she put her hand to, she spun yarn for all the neighbours as well as sewing and making clothes for different families and her own 12 children and she made the most wonderful butter preserves. The women in those days made everything, they could not go to the supermarkets and buy all the goods. To raise 12 children in those days was really some job; they did not receive Baby Bonus or any help of any kind to feed and clothe them. We had lots to eat and wear, maybe they were not the most stylish, but a lot of fun we had. Mother was always at the helm, so nothing else mattered. Home was full of love and laughter, we had a few little spats to  make it  more fun. My Dad passed away at the age of 89 years, he never had a doctor until he was 85. My mother was in her 80th year when she passed away.
My brother George would hitch up his team and sleigh and take a load to (the) Oliver Stevens or Jack Walkers or William Toyes; the next time Hertie Walker would do the same and we would have a ball. There was a nice lunch and make our way home or everyone would come to our house. We did not have much of the world's goods but we sure had a lot of fun. I would not trade one minute of my childhood for all the world's riches today. We children would go sleigh riding down the hills or go for walks on the crust in the bright moonlight over the fence. There were no roads plowed then, we always had a nice driving horse and cutter. These winters are mild to what they used to be, but sure go faster now we have open highways and so much more than 35 or 40 years ago. After Christmas everything was dead, and all the men went back to the lumber camps and we did not see them until the spring breakup in March, a big letdown. After Christmas and New Years we had concerts at the schools and basket socials.
Preceding landowner:
William Buck received the patent for this land on 19 Mar 1872.
1874 Peter Dawson to widow Jane Dawson with other provisions.
1877 Municipality of Stanhope for $33.25.
Succeeding landowner:
1917 Rivers sold to Johnston Toye for $200
1929 Howard Ashton Nesbitt for $100
Link to Settlers of Algonquin Highlands family tree
John Michel Rivers, b. Sep 1858, Ontario d. 27 Feb 1947, Norwood, at the home of his daughter Mrs Charles Little.
Family 1: Louisa Cain
1. Mary Matilda Rivers, b. 18 Jan 1891, Galway, Peterborough
Family 2: Mary Jane Toye, b. Aug 1874, Ottawa
Husband 1: James Wesley Stockton, b. Abt 1856, South Yarmouth, Ontario,  d. 12 Feb 1900, Maynooth, Ontario, (Age ~ 44 years) Married: 1896  Minden
1. James Toye, b. Jun 1892, Ontario
Children with Rivers:
1. James Stanley Rivers, b. Abt 1895, Ontario, d. 20 May 1937, Victoria, Ontario, (Age ~ 42 years)
2. Laurice Isabell Rivers  b. Sep 1899, Stanhope
3. George William Rivers, b. Mar 1901, Ontario d. 24 Jun 1936 COD: Fracture of skull and other injuries from falling off a load of logs. Buried: Kinmount
4. Wesley Wellington Rivers, b. 21 Jan 1903, Stanhope
5. Orville Whitney Rivers, b. 13 Sep 1904, Stanhope
6. Laura Hazel Rivers, b. 4 Apr 1906, Stanhope
7. Bertha Letishea Rivers, b. 9 Jul 1907, Stanhope
8. Rebecca Rivers, b. 28 Nov 1908, Carnarvon, Stanhope
9. Cecil Ray Rivers, b. 28 Nov 1908, Carnarvon, Stanhope, d. 15 Dec 1908, Stanhope, (Age 0 years) COD: No cause known
10. Ruby Henrietta Rivers, b. Nov 1909, Ontario
11. Ida Lanada Rivers,  b. 15 May 1911, Stanhope, d. 6 Jan 1999, Haliburton, (Age 87 years)
12. Minnie May Rivers, b. 05 Dec 1912, Stanhope