Settler of township lots: Lot 13, Conc. 4, Guilford (Stanhope area)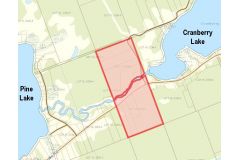 Location: Map point is the approximate location within this 100 acre lot on the river between Pine & Cranberry Lakes west of Cranberry Lake Road.
Land acquisition: 1918 from Fred R Barnum. Ontario Land Parcel Register - Guilford (Image 228).
Other land: 1892 Lot 2, Conc. 6, Guilford - 1892 from James Barry, Sr. Ontario Land Parcel Register - Guilford (Image 5)
Dates of residency:
1881 Census of Canada, Stanhope
1901 Census of Canada, Guilford
1903 Business Directory, Guilford: John Horsley, Maple Lake, Lot 2, Conc. 1. There is no record of him owning this property. Ontario Land Parcel Register - Guilford (Image 4).
1909 Birth of Daughter Ethel May Horsley (1909–) West Guilford
1911 Census of Canada, Guilford: John & Isabell Horsley
1921 Census of Canada, Guilford
Interesting facts:
The years before 1885 saw a steady influx of homesteaders to West Guilford, including in later year, Alan and John Horsley. Source: In Quest of Yesterday by Nila Reynolds. Published by The Provisional County of Haliburton, Minden, Ontario 1973 pg 155
Preceding landowner:
1865 The C .L. & C. Co from The Crown
1894 Jame Wm Irwin
1911 Cecil Howard Woodcock
1917 Fred R Barnum
Succeeding landowner:
1920 Wesley Ethelbert Boice
1940 Harry Horsley
Link to Settlers of Algonquin Highlands family tree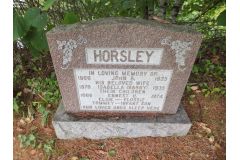 John Brigham Horsley, b.15 Mar 1866, Murray Township, Northumberland, Ontario,  d. 14 Oct 1935, Ross Memorial Hospital, Lindsay, (Age 69 years). Died from an embolism following prostate surgery. Buried: Maple Lake Cemetery
Parents:
• Allen Horsley, b. Abt 1840, Ontario,  d. 30 May 1897, Guilford, (Age ~ 57 years)
• Annie McPhail, b. 24 Mar 1838, Murray, Northumberland, Ontario, d. 25 Jan 1925, Peterborough, (Age 86 years)
Isabella Barry, b. 15 Jun 1870, Dunnville, Ontario, d. 29 Jun 1935, Maple Lake, (Age 65 years) Buried: Maple Lake Cemetery
Parents:
• James Barry, b. 24 Jun 1809, England d. 17 Nov 1893, West Guilford,  (Age 84 years)
• Caroline Doman, b. 05 Nov 1834, Switzerland d. 21 Jun 1919, Haliburton, (Age 84 years)