Settler of township lots: Lot 7, Conc. 4, Stanhope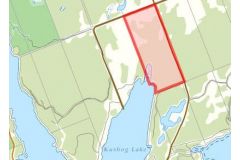 Location: Map point is the approximate location 101 acre lot running south and west from the east corner of Walkers Line and Buckslide Road to Kushog Lake.
Land acquisition: 
1862 Lands Liable to Taxation: Township of Stanhope Patent Register - 101 acres to John Fee Jr.
1871 Patent from The Crown. Ontario Land Parcel Register - Stanhope (Image 82).
Dates of residency:
1870 Peterborough County Directory, Stanhope: John Fee jr Lot 7, Conc. 4
1872 Birth of Son William Walter Fee (1872–1953) Stanhope
1880 United States Federal Census, Minnesota: John Fee sold his property and moved to Minnesota
1939 Death: Spokane, Washington, USA
Preceding landowner: The Crown
Succeeding landowner: 1876 William Gainer for $800
Link to Settlers of Algonquin Highlands family tree
John Bradford Fee, b. Abt 1847, Scotland d. 28 Feb 1939, Washington, USA (Age ~ 92 years)
Parents: John Fee, b. Abt 1811, Ireland; Mary Jeannette Jackson, b. Abt 1814, Ireland, d. 29 May 1876, Stanhope
Frances Jennet Buck, b. Abt 1850, Atlantic Ocean 
Father: Daniel Buck, b. Abt 1809,  England d. 29 Oct 1898, Minden, (Age ~ 89 years)
Children:
1. William Walter Fee, b. 29 Nov 1870, Stanhope, d. 06 Oct 1953, Washington, (Age 82 years) 
2. Morris Daniel Fee, b. 28 Mar 1873, Stanhope
3. Mary Janet Minnie Fee, b. 11 Jan 1875, Stanhope,  d. 24 Feb 1975,  Washington (Age 100 years)
4. Edith Elinor Fee, b. 06 Oct 1876, Ontario, d. 30 Apr 1972,  Washington, (Age 95 years)
5. Olive Cora Fee, b. 30 Jun 1882, Minnesota, d. 03 Jun 1969, Washington, (Age 86 years)
6. Francis Wilbert Fee, b. Abt Dec 1884, Minnesota,
Photo: Alexander Niven's Insurance Survey Notebook, Haliburton Highlands Museum