Settler of township lots: Lot 10, Conc. 5, Guilford (Stanhope area)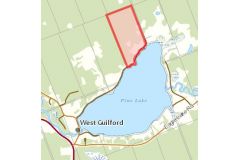 Location: Map point is the approximate location within this irregular, waterfront lot on Nila Road at the north east end of Pine Lake.
Land acquisition: 1945 from The C .L. & C. Co. Ontario Land Parcel Register - Guilford (Image 116).
Dates of residency:
1889 Marriage: Lauretta Barnum (1868–1941) Haliburton
1891 Birth of Daughter Emily May Henderson (1890–1975) West Guilford
1903 Business Directory, Guilford: John Henderson, Maple Lake, Lot 10, Conc. 5
1901 Census of Canada, Guilford
1911 Census of Canada, Guilford: John & Lauretta Henderson, children: John, Sadie, Beatrice, Gertrude, Henry, Phoebe
1942 Death: West Guilford
Interesting facts:
The first school to be known as S. S. No. 2 and 3, Guilford, was voluntarily built by the settlers in the early 1880's. When larger facilities were required, the log building was sold to John Henderson Sr., who rebuilt it as a cow shed which can be seen at the Henderson homestead. One can still read the initials carved deep in the weathering timbers by the school boys of 80 years ago. Source: In Quest of Yesterday by Nila Reynolds. Published by The Provisional County of Haliburton, Minden, Ontario 1973 pg. 157
Preceding landowner: 1865 The C .L. & C. Co from The Crown
Succeeding landowner: 1952 Harold M Field
Link to Settlers of Algonquin Highlands family tree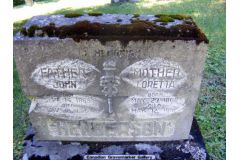 John Alexander Henderson, b. 14 Sep 1869, West Guilford, d. 18 Nov 1942, West Guilford. Buried: West Guilford Cemetery
Lauretta Barnum, b. 29 May 1868, West Guilford, d. 12 May 1941, West Guilford. Buried: West Guilford Cemetery
Children:
1. Sadie Henderson, b. Abt 1898, Guilford
2. Henry Vernor(?) Henderson, b. 10 Jul 1907, Guilford
3. Phoebe Jane Henderson, b. Abt 1910, West Guilford
4. Clifford Nelson Henderson, b. Abt 1912, Guilford
Photo 1: John Alexander and Lauretta Henderson. Source: Ancestry.ca keithmarj originally shared this on 16 Apr 2010