Settler of township lots: Lot 14, Conc. 9, Stanhope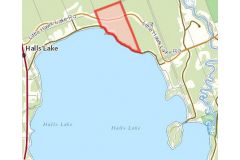 Location: The map point in the approximate location within this irregular, waterfront lot on the north shore of Halls Lake.
Land acquisition: Lot 14, Conc. 9 was patented to James Upton on 15 May 1911. Ontario Land Parcel Register - Stanhope (Image 149).
Dates of residency:
1881 Census of Canada: The Upton family (head Edward A.) including brothers James Alonzo, Richard and Alex
1890 Stanhope Voters List: James Upton, owner, Lots 14 & 14, Conc. 9 &10
1893 Stanhope Directory: Boskung, Lot 14, Conc. 10 but this could be an error - this lot was not patented until 1920 to Arthur Hewitt.
1899 Stanhope Directory: James Upton, Boskung
1891 Stanhope Voters List: also Lot 14, Conc. 10
1901 Census of Canada, Stanhope: James  and Annie Upton with 3 children
1901 Stanhope Voters List
1903 Stanhope Voters List: James Upton, farmer, Lot 14, Conc. 9
1905 Death of infant daughter Rubbie Irene Upton at Lot 14, Conc. 9, Stanhope
1911 Stanhope Voters List
1911 Census of Canada, Stanhope: James & Annie Upton and 6 children - Lot 28, Conc. 5 which at that date was owned by Benjamin Sawyer. Ontario Land Parcel Register - Stanhope (Image 253).
1911 Stanhope Township Post Office List
Interesting facts: 
Preceding landowner: The Crown
Succeeding landowner:
1911 Richard W. Johnston
1912 George Herbert Clark
1913 James Welch
Link to Settlers of Algonquin Highlands family tree
James Upton: b. 28 Dec 1866, Lacolle, Quebec d. 10 Oct 1934, West Guilford (Age 67 years) COD: Coronary thrombosis, severe attack at time of death. Buried: St. Stephens Cemetery
Parents:
• Edward A. Upton, b. May 1840, Canada d. 06 Apr 1902, Wisconsin, (Age ~ 61 years)
• Susan Suitor [Suter], b. Abt 1843, Ireland 
Ann (Annie) Johnson: b. Abt Oct 1870, Wales d. 19 May 1941, Belleville
Parents:
• Edwin Johnson, b. Abt 1831, England  d. 3 Nov 1907, Stanhope, (Age ~ 76 years)
• Eliza Jones, b. Abt 1834, Wales d. 12 Dec 1906, Stanhope,  (Age ~ 72 years)
Children:
1. Wilbert Upton, b. 16 May 1892, Stanhope, d. 1967  (Age 74 years)
2. Ellen Upton, b. 06 May 1894, Stanhope,  d. 15 May 1971, Stanhope,  (Age 77 years)
3. William Leonard Upton, b. 13 Jun 1898, Haliburton,  d. 1967  (Age 68 years)
4. Harold Edward Upton, b. 30 May 1901, Ontario, d. 10 Jul 1974  (Age 73 years)
5. Rubbie Irene Upton, b. 4 Jul 1905, Stanhope, d. 21 Oct 1905, Stanhope, (Age 0 years) COD: Colera & convulsions for 2 days
6. Frances May Kathleen Upton, b. 2 Oct 1906, Halls Lake, d. 11 Feb 1962  (Age 55 years)
7. Mabel Evelyn Upton, b. 13 Jan 1909, Halls Lake, d. 24 Aug 1979, Minden, (Age 70 years)
8. Hattie Pansy Louisa Upton, b. 27 Feb 1912, Stanhope
Photo: James & Annie Upton. Source: Find A Grave. Added by kathy wray