Settler of township lots: Lot 6, Conc. 4, Guilford (Stanhope area)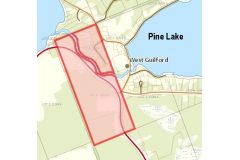 Location: Map point is the approximate location within this acre lot on the river between Green and Pine Lakes at West Guilford.
Land acquisition: 1883 Patent from the Crown to Jane (Taylor) Stevens. Ontario Land Parcel Register - Guilford (Image 46).
Other land: Lot 2, Conc. 2, Stanhope - 1872 This lot was registered as a Free Grant through the Free Grant and Homestead Act of 1868 under the locatee name James Stephen BUT Robert G Stevens (his father) received the patent for this land in 1874. Ontario Land Parcel Register - Stanhope (Image 14).
Dates of residency:
1871 Census of Canada: Stanhope, Peterborough North, Ontario; Roll: C-9988; Page: 3; Family No: 5.
1881 Census of Canada, Yea: Dudley and Dysart and Harcourt, Peterborough East, Ontario
Interesting facts:
The property in Guilford township which has remained the longest in the name of one family is the acreage on lot 6, con. 4, purchase by James Stevens in 1875. Although he was killed in the winter of 1882 in a logging accident, the land at time of writing is owned by a descendant, Mr. E. Stevens. Source: In Quest of Yesterday by Nila Reynolds. Published by The Provisional County of Haliburton, Minden, Ontario 1973 pg. 154
Preceding landowner: The Crown
Succeeding landowner: 1910 Jane Foster (formerly Stevens) to William H Stevens
Link to Settlers of Algonquin Highlands
James Stevens, b. Abt 1851, Fenelon, d. 07 Feb 1882, Dysart,  (Age ~ 31 years) "Killed by the fall of a tree."
Parents:
• Robert Gourlay Stevens, b. 1 Dec 1816, Ontario,  d. 29 Sep 1906, Stanhope, (Age 89 years)
• Eliza Bell, b. 28 Mar 1826, Northern Ireland d. 21 Nov 1911, Fenelon Falls, (Age 85 years)
Jane Taylor, b. Abt 1857, England 
Parents:
• William Nelson Taylor, b. Abt 1831, England d. 08 Mar 1895, Stanhope, (Age ~ 64 years)
• Sophia Jane Dawson, b. 26 Aug 1837, England d. 10 Oct 1915, Stanhope, Age 78 years)
Children:
1. William Nelson Stevens, b. 03 Dec 1875, Stanhope,  d. 15 Nov 1943, Guilford, (Age 67 years) 
2. Hector Stevens, b. 07 Aug 1878, Stanhope,  d. 02 Jun 1956, British Columbia, Age 77 years) 
3. James Alfred Stevens, b. 15 Apr 1880, Guilford
4. Robert Gorley Stevens, b. 23 Aug 1882, Stanhope
Husband 2: William Henry Jones, b. Abt 1845, England d. 2 Nov 1907, Stanhope, (Age ~ 62 years)