Settler of township lots: Lot 7, Conc. 4, Guilford (Stanhope area)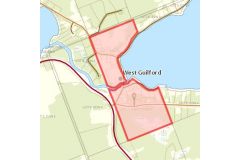 Location: Map point is the approximate location within the south half of this lot on the east side of Kennisis Lake Road at West Guilford.
Land acquisition: 1.5 acres in 1907 from Sarah Barnum, Ontario Land Parcel Register - Stanhope (Image 59)
Dates of residency: 1911 Census of Canada, Guilford - James Y. Powell b. 1832, Millwright. Society of Friends. Age 78
Interesting facts:
Jimmy Powell was George Barry's trainer of "Guilford Boy, whose speed and proud carriage made him w crowd pleaser at races and fall fairs all through Ontario. The trio spent 3 months on the American racing circuit where the "Guilford Boy" established some new track records. Source: In Quest of Yesterday by Nila Reynolds. Published by The Provisional County of Haliburton, Minden, Ontario 1973 pg. 160
Preceding landowner:
1865 The C .L. & E. Co from The Crown
1882 all the lot - Sarah (McColl) Barnum, except 2 acres for S.S. No. 2, Guilford
Succeeding landowner:
1912  Henry W Barnum of Powell's 1.5 acre.