Settler of township lots: Lot 6, Conc. A, Stanhope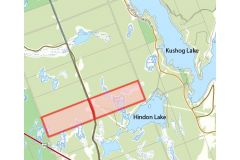 Location: Map point is the approximate location with the 100 acre lot west from Hindon Lake from north of Bing Trail on the east to Brady Lake Road through Hindon Lake Trail.
Land acquisition: 
1870 Lands Liable to Taxation: Township of Stanhope Patent Register. 100 acres to James Gannon
1870 Patent from The Crown. Ontario Land Registry  - Stanhope (Image 20)
Dates of residency:
1869 Marriage: Rachel Taylor, Stanhope
1870 Peterborough County Directory, Stanhope: pt Lot 6, Conc. A
1881 Census of Canada, Stanhope: James, farmer & Rachel Gannon & 6 children
1883 Stanhope Voters List: James Gannon, owner, Lot 6, Conc. A
1883 Death: Stanhope. Wife Rachel must have moved at some point after his death to the Brady Lake area to be closer to her family as her son was drowned at Brady Lake Schoolhouse Rock on a school day.
1887 Death of her son, John James Gannon Schoolhouse Rock, Brady Lake. Cannot find death records for any of the three children who drowned at Schoolhouse Rock, Brady Lake in a capsized canoe. Rachel & Barbara Coulter and their Gannon cousin. Coulter girls are buried in Minden but can't find where John James Gannon is buried.
1893 Hindon Directory: Rachael Gannon, Peter's Cors at Lot 6, Conc. A
1901 Census of Canada, Stanhope: Rachel (Taylor) Gannon with 3 children
1911 Census of Canada, Hindon:  Lot 6, Conc. A, Hindon Twp. Living with son, Daniel and his wife.
Interesting facts:
Alfred Moore, the township registrar, noted on the birth registration of James Gannon's son Daniel who was born in 1870 and whose birth was not registered until 1873 along with his sister's 1873 birth: "They live so far back that I could not lern anything of them until now".
Daniel Gannon is listed as Rachel's son, living at this location in the 1901 census.
U.S.S. No. 9 - Stanhope / No.1 Hindon - Hindon Hill School (1897 - 1939): This was a Union school for the townships of Hindon and Stanhope. This second schoolhouse was built on half an acre on the south west corner of the Lot 6, Conc A Stanhope purchased in Dec 1897 from the family of the late James Gannon. The school closed in 1939 and the property and building were sold to Bill Branson in 1947. Information source: Ontario Land Registry Abstract/Parcel Register Book - Stanhope Conc A; Haliburton Highlands Genealogy Group Files. Photo information & source: W. Forbes
Preceding landowner: The Crown
Succeeding landowner:
1897 Rachel Taylor Gannon, James Gannon's widow
1921 Harry M. Sawyer & Edward Cameron
Link to Settlers of Algonquin Highlands family tree
James Gannon, b. 1841, Ireland d. 10 Oct 1883, Stanhope, (Age 42 years) COD: Consumption
Parents: Hugh Gannon, b. 1818. Laila Sarah Graham, b. 1820
Rachel Taylor, b. 29 Dec 1846, Ireland d. 20 Jun 1931, Stanhope, (Age 84 years). COD: Erysipelas Iinfection, senillity. Informant was son-in-law, Robert Ferguson, Carnarvon.
1. Daniel Gannon, b. 27 Mar 1870, Stanhope
2. Jennet Hill Gannon, b. 18 Dec 1872, Stanhope, d. 19 Jul 1943, Manitoba,(Age 70 years) 
3. Margaret Gannon, b. 31 Oct 1874, Ontario, d. 1952  (Age 77 years)
4. Hugh Gannon, b. 27 Jan 1877, Ontario, d. 2 Jul 1945, Winnipeg, Age 68 years)
5. John James Gannon, b. 07 Jul 1880, Anson
6. Elizabeth Gannon, b. 31 Mar 1883, Stanhope, d. 18 Aug 1945, Stanhope, (Age 62 years)