Settler of township lots: Lot 23, Conc. 13, Minden (Stanhope area)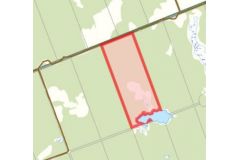 Location: Map point is the approximate location within this 92 acre lot running south from Tulip Road 1 lot east of Duck Lake Road.
Land acquisition: 1875 from William Chambers, his son? Ontario Land Parcel Register - Minden (Image 412).
Dates of residency:
1871, 1881, 1891 Census of Canada, Minden
1903 Business Directory, Minden: Thomas Chambers, his son, Maple Lake, Lot 23, Conc. 13
1892 Death: Minden
1911 Census of Canada - Isabella Chambers, his daughter, alone.
Interesting facts: 
Preceding landowner:
1865 Andrew Barnham from The Crown
1868 William Chambers
Succeeding landowner: 1952 Thomas Chambers, his son
Link to Settlers of Algonquin Highlands family tree
James Chambers, b. 16 May 1817, Scotland d. 29 Mar 1890, Haliburton, (Age 72 years)
Margaret Sidey, b. 27 Feb 1827, Scotland d. 19 May 1892, Haliburton, (Age 65 years) COD: Typhlitis
Children:
1. William Chambers, b. 14 Dec 1847, Scotland d. 24 Jan 1928, Toronto, (Age 80 years) 
2. Marjorie Chambers, b. 13 Mar 1849, Scotland 
3. James CHAMBERS, b. 22 Feb 1854, Scotland  
4. Ellen CHAMBERS, b. 22 Feb 1856, Scotland 
5. Margaret Jessie Chambers, b. 25 Apr 1858, Cobourg,  d. 25 Jun 1935, Manitoba, (Age 77 years) Married John Howell
6. David James Chambers, b. 12 Jun 1860, Ontario, d. 12 Jan 1937, Minden, (Age 76 years)  
7. Isabella Chambers, b. 22 Mar 1863, Ontario, d. 15 Dec 1935, Minden, (Age 72 years)
8. Thomas Chambers, b. 12 Apr 1866, Ontario, d. 06 Feb 1944, Carnarvon, (Age 77 years)  
9. Alexandra Euphemia Chambers, b. 07 Jan 1871, Peterborough, d. 19 Mar 1959  (Age 88 years)