Settler of township lots: Lot 6 & 7, Conc. 3, Stanhope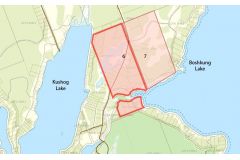 Location: Map point is the approximate location within Lot 6, Conc. 3 at Buckslides Rd and Rapid Run Lane
Land acquisition:
1861 Lands Liable to Taxation: Township of Stanhope Patent Register - 49 & 80 acres to Daniel Buck, his father
1884 Patent from The Crown. Ontario Land Parcel Register - Stanhope (Images 45 & 77).
Dates of residency: 
1861 Census of Canada, Anson: Son. Occupation: Tavern keeper
1874 Birth of Son Richard Daniel Buck (1874–1953) Stanhope Twp
1881 Census of Canada, Stanhope: James, farmer & Marion Buck with5 children and Mary Holland b, 1796
1883 Stanhope Voter List, Legislative Assembly only: James Buck, Minden, Lots 6 & 7, Conc. 3. In In Quest of Yesterday by Nila Reynolds. Published by The Provisional County of Haliburton, Minden, Ontario 1973 pg. 87: 1883 voters list lists James Buck as one of the settlers who gathered to get his mail at Beatty's Boskung Post Office. 
1883 Stanhope Voters List: James Buck, owner, Lot 1, Conc. A & Lot 3, Conc. 2 (neither of which was registered to him at that date)
1888 Death: Minden
Interesting facts: Source: In Quest of Yesterday by Nila Reynolds. pg. 87
The first woman to settle on the property purchased by the Canadian Land and Emigration Company [which purchased all of Guilford Township in 1865] was 17 year old Mariam Holland, youngest daughter of Richard and Mary Holland of Murray township, Hastings County. In 1860 she travelled with her brother James (for whom Holland's Lake was named) from Trenton to Lindsay and made the last part of the trip to her brother's home on the shores of Kashagawigamog, or, translated from the Indian, "lake of long and winding waters," in a bark canoe.
In a cabin near the present location Deer Lodge, Miss Mariam kept house for her brother who, during the preceding season of 1859 and 1858 had paddled from Peterborough to maintain his trap line. Romance entered her life when she met Daniel Buck's brother, James, on Jun 11th, 1865, the Rev. Frederick Burt performed the ceremony at Haliburton village which united them in marriage. It is possible that hers was one of the first weddings in the new settlement.
The Buck family made their home near the mill at Buck's Slide in Stanhope until moving to Minden where, James Buck died in 1888. Since this was the year of the dreadful diphtheria plague, he may have been one of the victims. 
When she first saw Dysart in 1860, the land was clothed with trees. One by one she watched the new settler's clearing appliqued on the great forest quilt until it resembled patchwork. Before her own death at the age of 90 she consigned a husband and 6 of her 9 children to the grave, yet she met these "slings and arrows of outrageous fortune" with the fortitude that is characteristic of all pioneer women. As the Municipality's first female resident and perhaps Haliburton's first bride, she certainly deserves a special tribute.
Preceding landowner: The Crown
Succeeding landowner:
1886 Stephen Dawson
1893 G. W. Stevens & William H. Stevens
Link to Settlers of Algonquin Highlands family tree
James Buck, b. Nov 1836, England  d. 13 Apr 1888, Minden, (Age 53 years) COD: Erysipilas (a bacterial infection of the skin which spreads rapidly to the deeper tissues and caused many deaths before the discovery of penicillin) Occupation: Inn Keeper
Parents:
• Daniel Buck, b. Abt 1809, England  d. 29 Oct 1898, Minden, (Age ~ 89 years)
• Mary Jennette Jackson, b. Abt 1819, England  d. 29 May 1876, Stanhope,   (Age ~ 57 years)
Marion Holland, b. 16 Mar 1844, Murray Twp, Ontario, d. 01 Apr 1933, Muskoka, (Age 90 years)
Children:
1. Mary Buck, b. 8 Apr 1867, Stanhope, d. 14 Apr 1918, Huntsville, (Age 51 years)
2. Elisa Jeanette Buck, b. 1869, Minden, d. 1934  (Age 65 years)
3. Sarah Eleanor Buck, b. 10 Jan 1872, Minden,
4. Richard Daniel Buck, b. 04 Jan 1874, Peterborough
5. John Buck, b. 29 Dec 1875, Stanhope, d. 1941  (Age 65 years)
6. Miriam Buck, b. 1878, Minden, d. 1878, Minden, (Age 0 years)
Image 1: Mariam Holland Buck. Fragments of a Dream by Leopolda z L. Dobrzensky. Published by the Municipality of Dysart 1985. opposite pg. 21