Settler of township lots: Lot 22, Conc. 2, Stanhope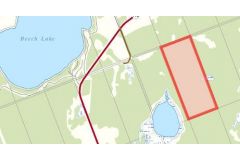 Location: Map point is the approximate location within this 98 acre lot east of Baker Lake, one lot east of Redner Road.
Land acquisition: No record of ownership
1871 This 98 acre lot was registered as a Free Grant through the Free Grant and Homestead Act of 1868 under the locatee name James Baley BUT Norman William Harrison received the patent for this land in 1950. Ontario Land Parcel Register - Stanhope (Image 157).
Dates of residency: 1872 birth of son, Ernest Eugene Bailey, Stanhope
Interesting facts: AKA James Baley
Preceding landowner: The Crown
Succeeding landowner:
Link to Settlers of Algonquin Highlands family tree Same settler, different spelling?
James Bailey
Ellen Burgess, b.1849, England
Son: Ernest Eugene Bailey, b. 20 Feb 1872, Stanhope