Settler of township lots: Lot 9, Conc. 4, Stanhope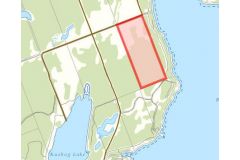 Location: Map point is 1112 Boshkung Lane Road, on this 101 lot running south from Boshkung Lake Road west of Mason Lane.
Land acquisition: 1873 Patent from The Crown. Ontario Land Parcel Register - Stanhope (Image 101).
Dates of residency:
1870 Peterborough County Directory, Stanhope: Isaac Morey, Lot 9, Conc. 4
1881 Census of Canada, Stanhope: Isaac & Hannah Moorey
1883 Stanhope Voters List: Isaac Morey, owner, Lot 9, Conc. 4
1890 Stanhope Voters List: Isaac Morey, owner, Lot 9, Conc. 4
1891 Stanhope Voters List: This settler was listed at the West 1/3 of this lot
1896 Death of Sister Hannah Morey at Lot 9, Conc. 4, Stanhope
1897 death registration: He lived here until his death in 1897.
Interesting facts:
The Moreys, Hannah and Isaac [siblings], were unique in the Haliburton area because of their parentage - a negro father and an Indian mother. Born in Brantford, their mother, a princess among her people, had inherited a quarter section of land where the city of Brantford now stands. When Thomas Mason, living at Paris, was first introduced to Isaac Morey, the latter as manager of the family estate was directing a group of labourers mounted on a magnificent horse; when next they met, Morey, cheated of his birthright by lawyers claiming a fault in his title, had lost everything but his fierce pride and independence.  He and his sister were only too glad to take up land near the Masons where Morey's skill as a veterinarian made him a valuable addition to the growing community. Source: In Quest of Yesterday by Nila Reynolds. Published by The Provisional County of Haliburton, Minden, Ontario 1973 pg 312
In his 1966 Collection of Sketches, "The Book They Would not Burn", Clayton Rogers tells the history of S.S. No. 3 - Boskung School - 1866 to 1875 and its demise: Some time during the second term the building was completely destroyed by destroyed by fire. The origin was never clearly known. Mr. and Mrs. Isaac Morey, the only colored folk in the district lived on the hill west of the school, honorable folk, having the confidence of all in the area. It was generally believed they had knowledge of the incident as arson seemed the only answer; but if they had have known of the culprit their secret was well kept. They carried it to the grave. 
Preceding landowner: The Crown
Succeeding landowner:
Isaac Morey sold part of the lot to his brother Cyrus in 1875
and what is described as the east 2/3rds of the lot (68 acres) to William Welch in 1885.
1906 Alonzo Upton 68 acres
Various including William Dies, Charles & Sheila Dies, William Anthony Aymong, William James Moore, Carol Ann Moffatt
Link to Settlers of Algonquin Highlands family tree
Isaac Morey, b. Abt 1827, Brant, Ontario, d. 1 May 1897, Stanhope, (Age ~ 70 years) COD: La Grippe
Parents:
• John Morey, b. Abt 1769, USA 
• Elizabeth (Morey) Upper Canada Land Petitions , (Library & Archives Canada), RG1, L3, Vol 366, Bundle M1, Petition 38 (John Morey), 7 Jul 1841.
...that Elizabeth Morey his wife is deceased having left by your petition eight children namely John, Susan, Silas, Hannah, Mary, Hiram, Catherine and Isaac the eldest of whom is now about forty years of age.
Siblings:
1. John Morey
2. Susan Morey
3. Cyrus Morey, b. Abt 1814, Ontario
4. Hannah Morey, b. Abt 1820, Brantford d. 12 May 1896, Stanhope, (Age ~ 76 years). Cause of death: La Grippe, old age
5. Mary Morey
6. Hiram Morey
7. Catherine Morey
Photo description and source: Alexander Niven's Insurance Survey notebook - Haliburton Highlands Museum.