Settler of township lots: Lot 13, Conc. 4, Stanhope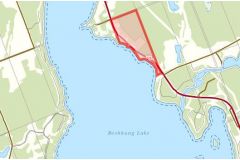 Location: Map point is the approximate location on the west shore of Boshkung Lake north of North Shore Road.
Land Acquisition: 1936 from The Crown part. Ontario Land Parcel Register - Stanhope (Image 147).
Dates of residency: Summer resident
Interesting facts: Excerpted from Boshkung Lake Memoirs, The Boshkung Lake Millennium Book Committee, 2001. Submitted by Jack Love, who died in May 2001.
Gordon  Love, Jack Love's Father, was one of the originals to settle into a cottage on Boshkung Lake. They first come to the area in 1930, on a weekend trip to Hall's Lake, where jack's uncle's brother, Charlie McLaughlin, had a hunting camp. At that time, the road along the Boshkung shoreline was being moved up to the present location of Highway 35. Thu, shoreline became available for sale from the crown. In 1936 Gordon Love bought a one-quarter acre lot for $25, abutting property purchased in 1933 by relatives, the McLaughlin family, It was required that $1000.00 be spent on the property within a year and a half. This was accomplished with the land purchased, a $75.00 survey and $900.00 on building supplies!
Because of the old roadway and the clearing for the new road and the clearing for the new road, the property was quite barren. Three thousand seedling trees were planted, os which close to three hundred survive to this day. A few years ago, Jack Love had to cut down a tree, and he counted forty-five rings. Berry bushes sprang up in the clearings as well, right back to the rock cliffs. Jack picked one hundred pounds of berries that first summer, and sold them for ten cents a pound.
The early trips up here [from Toronto] took four and a half up to six hours, travelling in a 1934 Ford V8 with spare tires and a trunk full of canned goods and other provisions. Running out of gas happened more than once! They progressed along highways, gravel roads, then single lanes. Washboard was very bad in places. The speed limit was thirty-five miles per hour, as if that mattered on those roads! North of Mnden, they even traversed a farmer's field, finally crossing rickity wooden bridge over the Beech River to the North Shore road, taking them down to the lake. They passed peole camping along the sandy beach now knonw as Hamilton Bay. It was a long trip for a few hours!
You could play tennis at Matabanick Inn, or go to square dances up a Cooper's Dance Hall, near where Club 35 is located now. Mrs. Cooper played the piano, and Mr. Cooper played the fiddle.
Jack recalls that mercury was high in the lake for a while. It was tracked back to logging in Algonquin Park when logs were soaked in a mercury bath to keep them during the drive down to the st. Lawrence River. The mercury settled on the bottom and was problem, but it's okay now.
Preceding landowner: The Crown 
Succeeding landowner:
Link to Settlers of Algonquin Highlands family tree - not listed